It is thought that the average person spends around one-third of their lifetime at work with approximately 60% of the population working in an office-based role. As such a considerable chunk of the day is spent in the workplace, it has become more important than ever to create an appealing environment that employees enjoy spending their time in. Whether you are searching for interior design inspiration for a new office or simply want to update the appearance of an existing space, we have devised a list of our top ten small office renovation ideas.
10 Great Small Office Renovation Ideas
You would be surprised how much of a difference even the smallest of office renovations can make to the morale of those working within. Not only is a visually appealing, modern office capable of creating a more welcoming environment for employees, but also for clients. One of the first impressions an outside visitor will get on your business is the surroundings that they are invited to. A spacious, tidy and quirky office is perfect for forming an immediate positive impression on your company.
With this in mind, if you have been given the responsibility to compile a number of different ideas guaranteed to revamp your office and bring back good spirits, then keep reading our top ten renovation ideas!
1. Vibrant Art
While there is nothing wrong with displaying a few business-related posters or motivational messages around the office, they often do not prove to be as effective as you would have hoped. While they will be read and discussed in the first few days, they will begin to become relatively futile after a few days. So why not use the free space to your advantage and invest in some vibrant, unique art to add a touch of colour to the office?
The type of art you opt for is often dependant on the industry you specialise in. Those who are a creative workforce could get away with graphic art filled with bright primary colours. As opposed to an academic industry such as finance who would benefit from light blue and purple hues to promote a clear mind.
Art In Offices is a fantastic company who specialise in creating affordable artwork ideal to brighten the workplace. Art can be purchased, rented or even displayed through a subscription. Choosing to go ahead with a subscription means that you can enjoy a new display of artwork, installed by Art In Offices every three, four or six months.
2. Glass Office Partitioning
Opting to rearrange your office partitioning is highly effective and is capable of completely transforming the space into an entirely new layout. If you have a large, open plan office, then you may benefit from downscaling the main office space to add an additional meeting room, kitchen or even staff room.
One of the most popular partitioning options to create a modernised appearance is through the use of glass office partitioning. Choosing glass above their material alternatives is ideal if you hope to achieve a bright and airy workplace filled with natural lighting. Glass can be transparent, patterned or frosted to make, for example, meeting rooms, more private. Another great option when hoping to increase the privacy of meeting rooms is also to fit acoustic glass to the partitioning; ideal for reducing noise disturbances.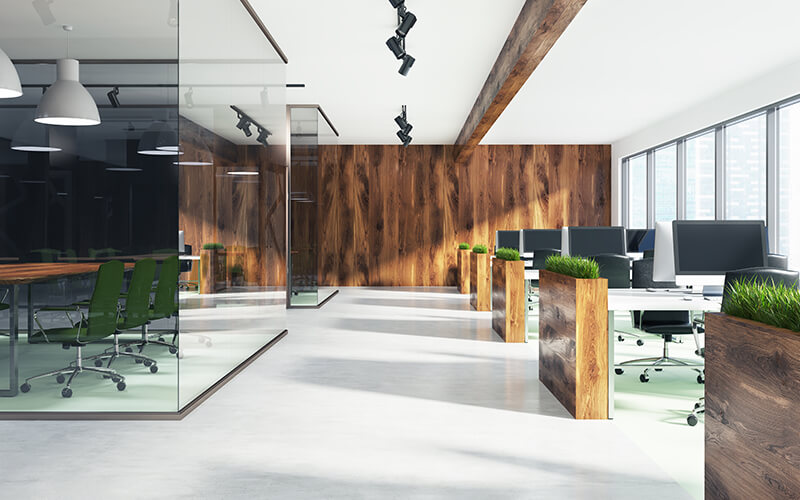 3. Hidden Storage
An office requires a considerable amount of storage, which can be somewhat frustrating when trying to achieve a tidy, minimalist appearance. With many different team members trying to carry out their daily tasks, the office can quickly become cluttered with paperwork, and it feels as if there is never a moment where all surfaces are free from objects.
Storage is key when keeping an office organised which means that if you haven't already, then it is highly recommended to allocate storage options to each team member. There are many different hidden storage options including cabinets that tuck under desks and drawers that can be fitted underneath desk worktops. Allowing each team member to have their own storage means that they will only be responsible for clearing their own mess, therefore, increasing the likelihood of a clutter-free office.
Furniture@Work has tonnes of different office storage options to fit the requirements of all business types.
4. Quiet Zones
Fitting quiet zones to the workplace has continued to grow in popularity over recent years; it is a proven way to enhance productivity and reduce stress.
Also known as a 'breakout space', quiet zones are allocated spaces in the workplace that are used when team members would like some time to work away from the main office. Whether they have a tight deadline to meet or are feeling a little stressed and need to cool down, a quiet zone is a comfortable location to work without any distractions.
When decorating a quiet zone, aim to opt for neutral or pastel colours as these are scientifically proven to relieve stress and begin to calm the brain. Wow 1 Day Painting has a great guide on the nine most peaceful colours to help you to relax. Seating should be equally as relaxing through super comfortable beanbags or armchairs.
5. Incorporate Plant Life
Plants come alongside a plethora of both mental and physical health benefits. For years, plant installations have been used in corporate environments to bring life and colour to what is often a dull atmosphere.
One of the key benefits of plant life in the office is its ability to keep the air clean and free from bacteria. Plants are capable of absorbing all of the rather harmful chemicals in the air and emitting pure oxygen, therefore, keeping team members free from illnesses and encouraging productivity.
Depending on the colour scheme of your office, you may opt for leafy plants or those that bloom flowers. Bromeliads, Orchids and Peace Lilys are all stunning, delicate flowers that are ideal for the office and come alongside many different benefits. For more information on plants able to improve the office, take a look at Small Business Trends.
6. Modern Flooring
Flooring is the one component in the office that goes through the most wear and tear. Dirt, debris and dust are continuously trampled in from the outdoors, quickly making the flooring appear unpleasant and unappealing. While regular hoovering and cleaning is capable of keeping flooring, particularly carpet, presentable in the short term, it will begin to deteriorate.
If your office flooring is beginning to appear somewhat outdated, then this would be an ideal place to start when making small renovations. Modern offices tend to opt for a greyscale theme for their premises as it means that a variety of different colour schemes would be able to compliment the flooring. A popular trend is to fit two-tone flooring which consists of different shades of the same colour to add dimension to the workplace.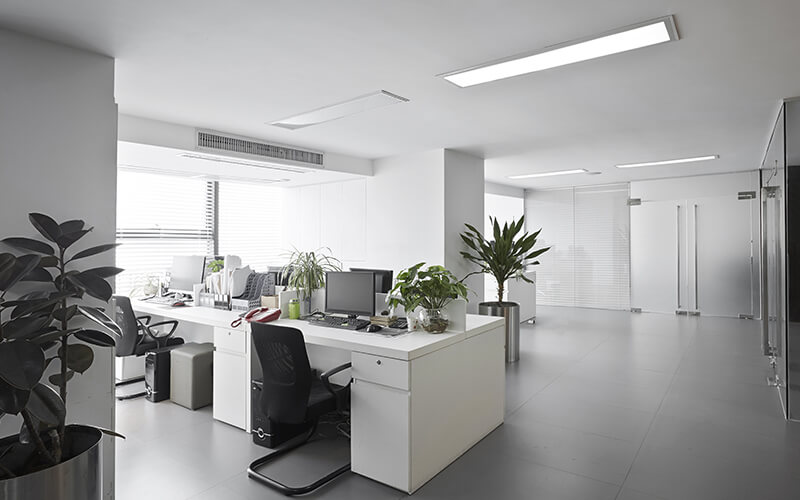 7. Ergonomic Office Furniture
The term 'ergonomic' relates to products that are specifically designed to suit an individual. For example, ergonomic chairs are tailored to fit the body of a single person to ensure that they are sitting in the best possible position throughout their day. Many different physical roles have a negative impact on the human body, but many fail to consider how an office-based job can cause damage. Chiropractors, in particular, notice how many health issues derive from poor posture due to sitting at a poorly positioned desk for the majority of the day.
When searching for new office furniture, we strongly recommend, while it is expensive, to consider ergonomic furniture. Keyboards, mice, trackpads and chairs can all be purchased and tailored to the individual team member. Osbond Ergonomics has a wide variety of different office furniture to meet health and safety standards.
8. Update Lighting
Light is imperative in the workplace, even more so if all team members spend their day behind a computer screen. Appropriate lighting that causes no glares or shadows on the screen is a proven method of reducing the likelihood of eye fatigue and headaches, therefore, reducing the number of ill team members.
If you're looking for a small renovation that will not disturb the daily tasks of your workforce, then updating lighting is ideal. While it is important to ensure that all light fixtures meet health and safety regulations, it doesn't mean that they have to be a simple, dull design. LED Sky Ceilings, in particular, specialise in modern LED lighting that achieves the appearance of a bright blue sky on a Summers day. They are even able to install a lighting wall which features a tranquil scene from the outdoors, ideal for a contemporary office environment.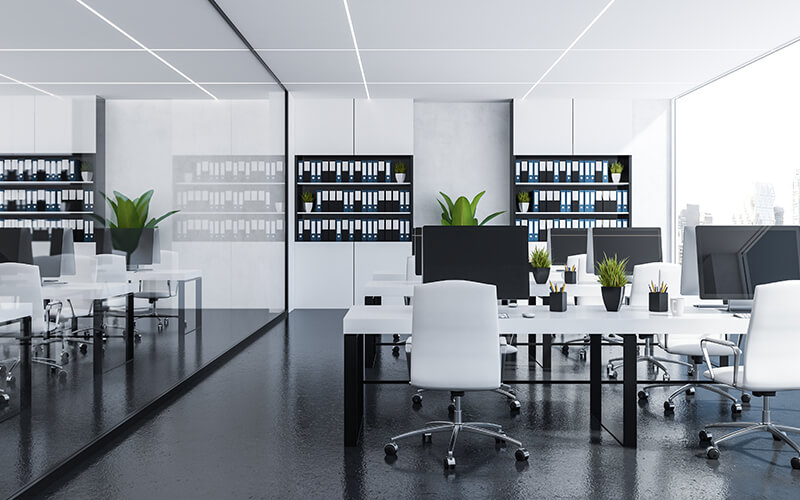 9. Alternative Whiteboard
A whiteboard comes in super handy in organising the day to day tasks of an office team, so why not play around with the design and create a centrepiece out of your useful notes board?
Transforming a chunk of your wall in the office into a stylish chalkboard is ideal for adding a touch of creativity and uniqueness to your workplace. It serves the same purpose as a whiteboard; however, is less chunky and unsightly. It also allows you to have more freedom to experiment with colour creating a playful, relaxed atmosphere. Grillo Designs have put together an easy-to-follow step by step guide on how to create the perfect chalkboard wall.
10. Encourage An Eco-Friendly Office
Although encouraging each member of the office to take a more environmentally friendly approach may not first appear to be a renovation idea, you would be surprised how much of a difference it can make to the workplace.
One of the most effective eco-friendly renovations is to enhance the amount of natural lighting into the room. As mentioned previously, lighting is key for reducing eye fatigue, headaches and improving the overall health of employees; this also includes the use of natural lighting. It has been proven that team members who sit nearest to the window have a higher work rate and can also work towards promoting a better night's sleep. Opting to utilise natural lighting to your advantage as much as possible will greatly contribute towards a reduction in your energy bills, therefore, becoming more environmentally friendly.
For 30 easy ways to make your office more eco-friendly, head over to Bevi.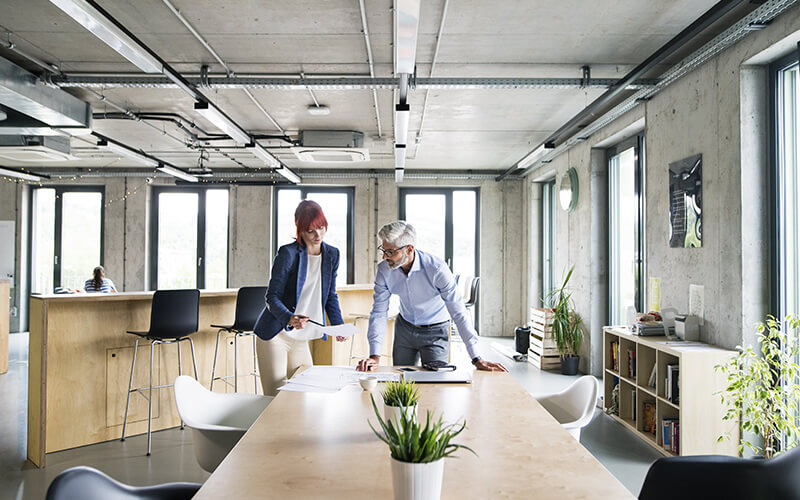 Transform Your Office Through Small Renovations!
Transforming your office and revamping the appearance doesn't have to take up a huge amount of both time and money. You would be surprised how much even the smallest of renovations can impact team members productivity, morale and overall mood when working in the office.
We hope that our top ten renovation ideas have given you some helpful inspiration. If so, why not share on social media?