As we finally bid farewell to the frosty mornings and begin to say hello to the rare British sunshine making its way out of hibernation, it is time to start considering those much-needed property renovations that you've been meaning to look into over the colder months. When beginning research into the array of property updates available, many are surprised at how much of a difference even the smallest of renovations can make on a property's overall aesthetics. Not only can you admire a transformed, visually appealing space, but also enjoy enhanced comfort and convenience.
One of the most common property renovations that always seems to be pushed further down the 'to-do' list is opting to install or replace patio doors. There are a plethora of different benefits of patio doors which work towards creating a spacious, airy home that is filled with character.
Top 6 Benefits Of Patio Doors
Patio doors continue to be an eye-catching feature for those hunting for the perfect property. Not only are patio doors ideal for filling your home with natural light, but also allow you to seamlessly integrate your outdoor space with the indoor living area. As one of the most cost-effective home renovations, opting to install or replace patio doors is most definitely a worthwhile investment and are guaranteed to serve their purpose for many years to come, problem-free.
Whether you are considering fitting your home with patio doors for the first time or simply want to refresh your current style, we have devised a full guide to the main benefits, along with the types available for your property.
1. Enhanced Natural Light
While, of course, the primary purpose of patio doors is to allow homeowners to enter and exit their property with ease, they are, technically, also windows. The majority of patio doors feature large floor to ceiling panes of glass which are ideal for allowing natural light to pour into your home. As opposed to always relying on the power of artificial lighting, instead, you can use the rich free resource of sunlight to your advantage.
Natural light has been proven to have a plethora of different health benefits including the ability to promote a better night's sleep, along with improving your overall mood. The more sunlight that you allow into your home, the more vitamin D your body will be able to absorb, even during the Winter. Vitamin D is a vital nutrient required for a healthy body and mind; it fills your body with calcium which not only improves bone growth but is also capable of lowering the risk of heart disease, weight gain and particular cancers. For more information on the benefits of natural light, take a look at Healthline.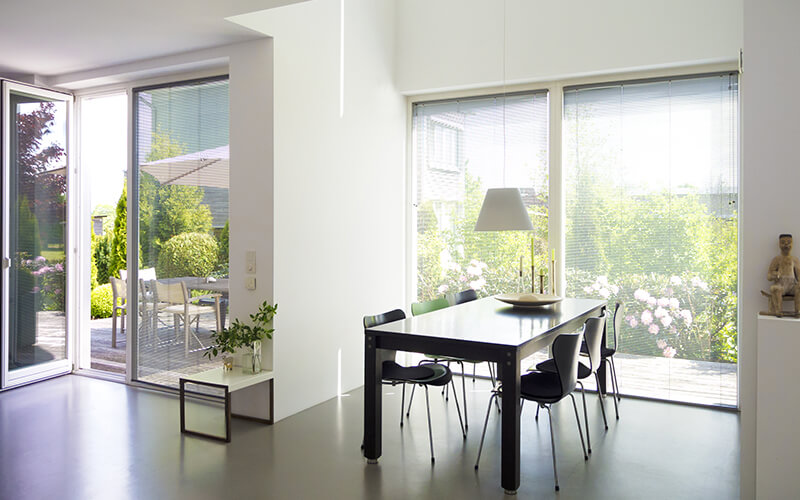 2. Increases Property Value
Patio doors are an excellent feature to grab the attention of potential buyers. The sophisticated combination of large, high-quality patio doors with an attractive garden area is a great way for potential buyers to visualise themselves living in your property in years to come. Particularly if the garden is one of the key selling points of your home, opting to install patio doors is guaranteed to highlight the most positive features of your home; therefore, contributing towards increasing your overall property value.
3. High Security
Many assume that due to the large window panels featured in patio doors, their level of security is somewhat low; however, this is most definitely not the case. Patio doors, in fact, are equipped with a number of different security locks that are built into the system during the manufacturing process. Unlike a traditional garden door that is fitted with just a straightforward lock, patio doors now have a three-tier level of protection.
For those who are particularly worried about the security of their patio doors, there are a number of different additional preventative measures that can be fitted for extra protection. It is your choice whether you opt for fitting these independantly or enlist the help of a professional during the installation process. Some of the most common forms of patio door security measures include an alarm, security bars and locking systems.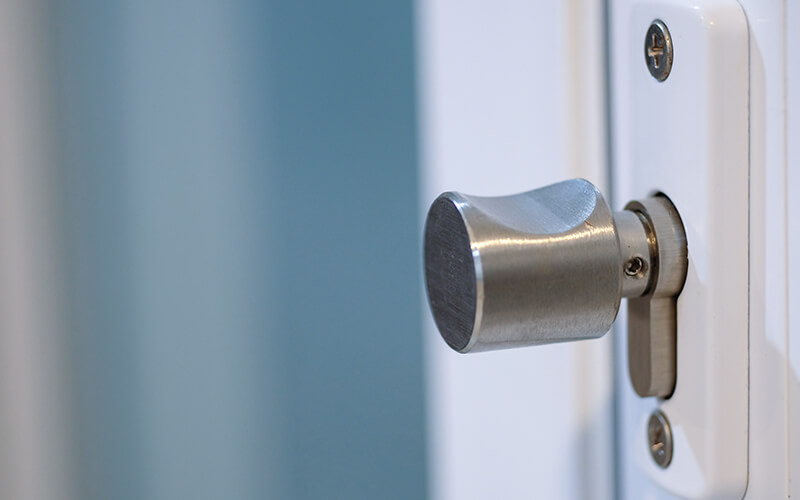 4. Aesthetically Pleasing
One of the most sought-after benefits of installing patio doors is that each visual component can be entirely customised to your requirements. Each fixture can be made to measure which means that even if you have an awkwardly-sized space that you hope to use to your advantage, patio doors would be the ideal solution. There are also several different styles, materials and colours available to ensure that all aspects perfectly compliment your interior design and overall theme.
Not only are patio doors capable of being personalised to your home, but they also enhance your view of the outdoors, again, making a more visually appealing property. Regardless of whether your home is surrounded by blooming greenery or you're located in a more built-up area, every house has its own unique view to admire. Large patio doors open up a whole new pathway to the great outdoors where you can gaze at the sunrise or watch an exciting thunderstorm unfold.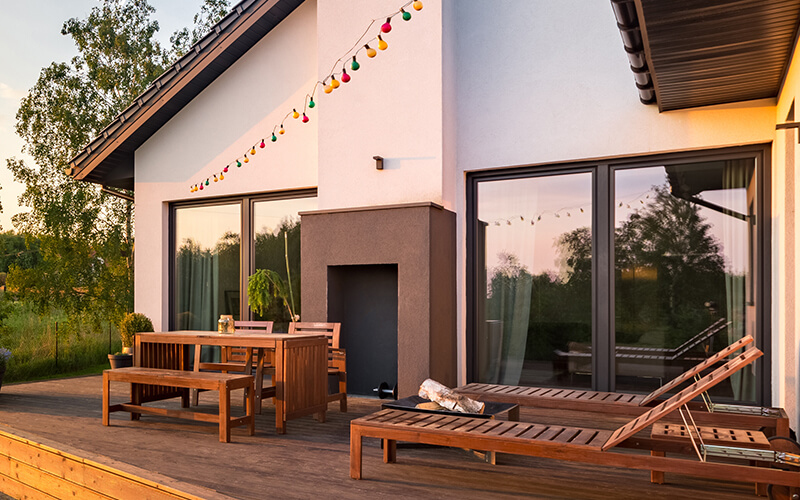 5. More Interior Space
Due to the multiple different styles of patio doors available, unlike traditional garden doors, you no longer have to worry about allowing clearance for doors that open inwards. Inward opening doors, in particular, can prove a nuisance in a smaller property and is one of the most common culprits for enclosing a space, making it look considerably more cramped. Opting for sliding doors, for example, is ideal for maximising your space as much as possible.
When installing patio doors, many homeowners choose to go down the route of a double door to provide a large opening to their garden, perfect for the Summer months. Not only does a double door make a fantastic space for socialising and throwing BBQ's, but also considerably more accessible if you ever need to move furniture in and out of the property during renovations.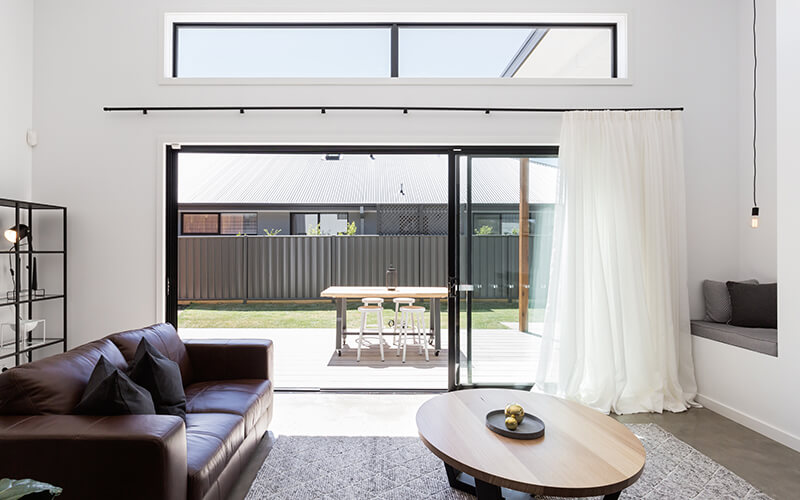 6. Reduced Energy Costs
As mentioned previously, patio doors are an excellent way to maximise the amount of natural light you allow to stream into your home. Using natural light to your advantage is a proven way to reduce your energy bills dramatically. The less need you have to utilise artificial lighting, the less money you will spend on electricity to fuel the lights.
Sunlight not only brings light but also heat. During the hours of 10am and 4pm, the sun rays are at their strongest, which means that, even during the Winter, the sun is ideal for working towards heating your home naturally, free of cost. On the other hand, during the warmer months, as opposed to using a significant amount of energy to fuel air conditioning or provide electricity for fans, opening your patio doors wide will allow cool, fresh air to make its way through the home.
To reduce your energy bills as much as possible, it is imperative also to consider implementing preventative measures to guarantee that your patio doors are entirely draught-proof. Energy Saving Trust has put together a useful guide to drought-proofing your home including tips for both windows and doors.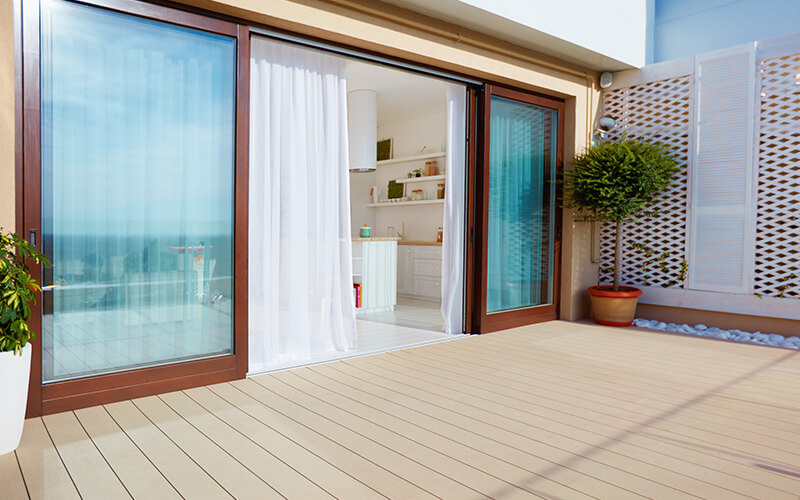 Types Of Patio Doors Styles
Patio doors are incredibly versatile and as briefly covered previously, can be entirely customised to meet the requirements of your home. Every property, no matter the size, shape or location, prove to be the perfect candidate to consider installing patio doors. Many different types of patio doors are available, each of which are suited to different homeowners. Below is an introduction to each popular type:
Sliding: Sliding patio doors are the ideal solution to maximise space and are perfect if you do not want to lose any interior or exterior space whatsoever. The glass panels, when opened, slide one behind the other meaning they will not swing inwards nor outwards. If required, homeowners can even opt for a 'pocket' style sliding door, which, although is likely to cost a little extra, means that the panels will slide out of sight into cavities in the wall.
Bifold: Opening and closing in a concertina-style movement, bifold patio doors feature up to eight panels that neatly fold into one when opened. Bifold doors are ideal if you are slightly tight for space, but hoping to achieve an ultra-modern appearance. This particular style remains popular in country homes as bifold doors are capable of filling an entire wall with glass panels providing exceptional views of the outdoors.
French: As the most traditional, yet cost-effective patio door type, French-style doors come alongside a plethora of different designs to fit the theme of your home. Although they do feature fewer panes of glass, therefore allow less light into the house, they are perfect for injecting personality into your property. French doors are the most energy efficient of door types as they are installed with a considerably tighter seal, therefore, proving better insulation.
Single: While the single-style patio door may appear somewhat simple, they most definitely do not lack character. As the smallest of patio door types, single doors are perfect if you are incredibly tight for space and are hoping to make the best out of the area you have. Similarly to French doors, single panel doors are available in tonnes of different designs, along with an array of materials.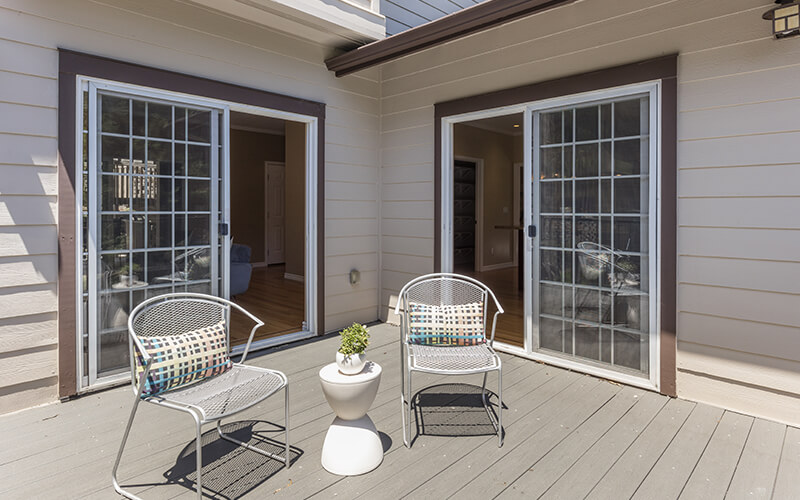 Types Of Patio Door Materials
The most significant contributing factor towards the final appearance of your patio doors is the material you opt for. Different materials, similarly to different styles, are best suited to the type of aesthetics you hope to achieve.
Wood: Wood is ideal for achieving a unique, one of a kind appearance that simply cannot be replicated through any other material. Every grain is individual, has their own contours and shapes meaning that, when opting for a wood finish, you can guarantee that no other homeowners will have the same patio doors as you. Both soft and hardwood doors are available with some of the most popular proving to be oak, pine, mahogany and cedar.
Aluminium: As the strongest and most durable patio door material, aluminium is suited to those who are looking for guaranteed longevity, without compromising on aesthetics. While aluminium may be lightweight, its strength means that you are free to increase the ratio between the glass and frame to maximise natural light.
uPVC: uPVC acts as an 'all in one' material, ideal for manufacturing patio doors. Not only is uPVC cost-effective but is also incredibly energy efficient and easy to maintain. Those who opt for uPVC can enjoy patio doors that remain in perfect condition for at least 20 years; the material will not fade, rot, peel or flake. Here at Danetre Glass, we continue to utilise uPVC for a number of our clients who install doors in Daventry and surrounding areas due to the materials proven abilities.
Fibreglass: Fibreglass is capable of creating a similar appearance to wood; however, is able to withstand adverse weather conditions considerably better. As fibreglass is made using reinforced plastic enforced with glass fibres, it proves to be one of the most hard-wearing patio door materials and similarly to uPVC, requires little maintenance during its lifespan.
Reap The Benefits Of Patio Doors!
Not only are patio doors capable of transforming your home with a unique, modern twist but also come alongside a number of useful benefits that can improve your overall way of life. Opting for installing patio doors means that you can enjoy a reduction in energy bills, enhanced natural lighting and maximised space.
We hope that you have found our article helpful, if so, why not share on social media?