Home improvements come in many forms, and uPVC windows are no exception. Their durability, thermal comfort and acoustic insulation make them the perfect addition to any home, so maintaining them is of utmost importance. If you want to know how to maintain uPVC windows, keep on reading!
The ultimate guide on how to maintain uPVC windows
If you aren't quite sure what uPVC windows are and why they are becoming a statement feature in many UK households, allow us to run you through the basics. uPVC is a form of plastic which stands for unplasticised polyvinyl chloride, and it has many benefits which make it the perfect material for your window frames. Aside from being extremely durable and providing the highest level of thermal comfort, uPVC windows are also considerably cheaper than aluminium and timber alternatives. Of course, prices vary depending on quality and features, but if you opt for uPVC, you can guarantee a more affordable price. Another one of the biggest selling points of uPVC windows is that they are exceptionally low maintenance and can effectively withstand most weather conditions. Unlike timber, uPVC windows will not show any signs of rotting or weather damage due to its extremely durable nature. As well as being aesthetically pleasing all year round, uPVC windows are renowned for providing excellent sound insulation, with studies showing they can reduce outdoor noise by as much as 70%. uPVC windows are well and truly the gift that keeps on giving as their advantages don't stop there! By being incredibly energy efficient, installing these windows can significantly reduce your heating costs but still keep your property nice and warm. If you think your home could benefit from windows like this, then do not hesitate to contact us as we install uPVC windows in Daventry and various other locations across the UK.
By following our advice below, you will realise how easy it is to maintain your uPVC windows and keep your property looking pristine.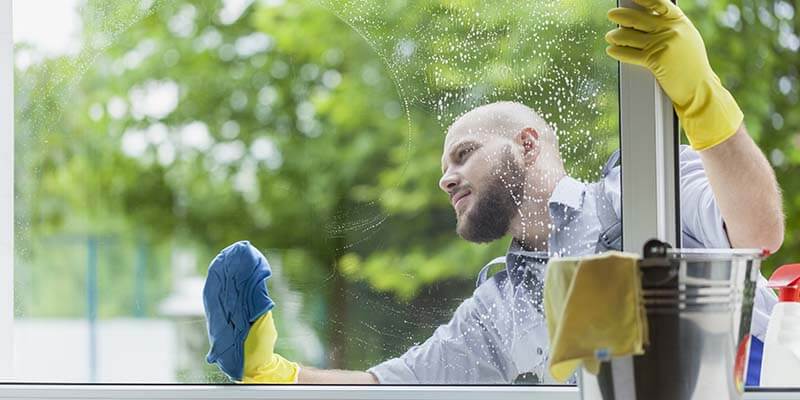 Cleaning the frame
We recommend cleaning your window frames at least twice a year, but feel free to clean them more often if you think it is necessary. To clean the frame, you will want to start by opening the window and using an old paintbrush to loosen any dust, dirt and cobwebs. Once you have done this, simply use a hose or hoover to clear it all away. When the area is clear, all you need to do is mix together washing up liquid and warm water and use a microfibre cloth to wipe down the frames. When doing this, pay extra attention to the edges where the window sits inside the outer frame as this area is more suspectable to gathering dirt and dust. If you notice there is still dirt on your window frame, try using a top grade uPVC cleaner being cautious not to use it on the silicone seals as it may cause them to lift away.
Our top tip when it comes to cleaning your window frames is to avoid using any harsh chemical cleaners, abrasive cloths, sponges or creams as this could damage the frame and ruin its aesthetic.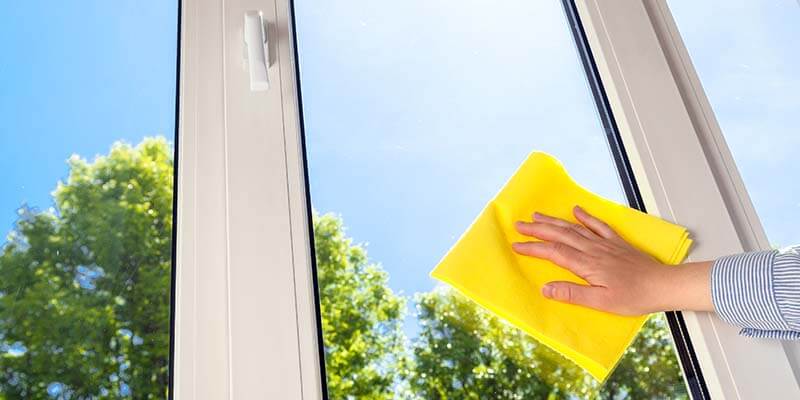 Cleaning the glass
The glass of your uPVC windows should be cleaned more regularly than the frame – we suggest four to eight times a year. To ensure you are left with a sparkling finish, firstly you should give the glass a rub down with a damp cloth to remove any excess dirt. You should also avoid cleaning your windows in direct sunlight as it could result in a streaky, unpleasant finish. When it comes down to actually cleaning the window, you have two options: traditional glass cleaner or popular specialist cloths.
If you opt for traditional glass cleaner, there are a huge variety of products you can choose from. With climate change being the biggest environmental crisis we have ever faced today, it's important that we all make a conscious effort to give back to the planet. Small changes like purchasing eco-friendly cleaning products instead of standard, chemical-infused ones is a great way to actively work towards a more environmentally conscious lifestyle. Alternatively, this Windolene Window and Glass Cleaner Spray can be purchased from most supermarkets or DIY shops and uses a four action system to guarantee perfect results after each use:
Dissolves grease
Lifts off dirt
Cleans with vinegar
Leaves a streak-free shine
To see the results for yourself, spray the mixture directly onto the glass, making sure to work it into all the corners. Then, use a clean, dry microfiber cloth to polish the glass to perfection. If you want to get a little more creative, read this handy article which gives you a step by step guide on how you can create your own window cleaning solution.
On the other hand, if specialist cloths are more your style, e-cloths are exactly what you need. You will notice that these cloths typically come in a pack of two – one for cleaning and one for drying to a perfect shine. Ultimately, E-cloths are an excellent option if you want to avoid using cleaning products entirely.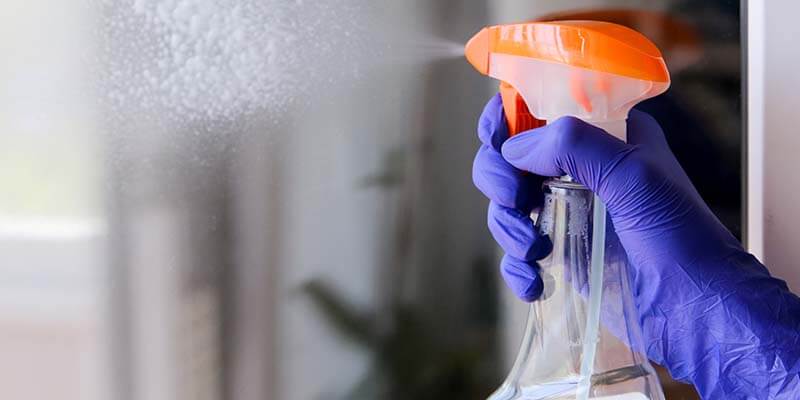 Maintenance
As well as the frame and glass, there are other features of your uPVC windows you need to look after, such as the handles, hinges and locking system. Using a spray oil on these parts every six months should be enough to keep your windows in pristine condition.
When cleaning the handles, make sure the window is closed, then spray some oil onto the window key and insert into the handle lock. Insert the key gently and move it in and out of the lock several times. For the locking systems, open the window and spray some oil on the locking strip. If there is any excess oil, simply wipe it away with kitchen roll. Finally, with an open window spray oil on the friction hinges. If the hinges feel loose after you've sprayed them, look for a tightening screw you can use to re-tighten them.
Although these cleaning and maintenance tips do not have to be executed regularly, they help prevent long term failure and decay – keeping your uPVC windows looking and working like brand new for as long as possible.
Looking after your windows
Your windows are on display 24/7, so keeping them in good condition is an absolute must. Clean, well-kept windows completely transform a property's exterior, so by following our maintenance and cleaning tips, you are guaranteed to have pristine uPVC windows all year round. If you think your property is in need of some TLC and your windows need to be updated, then you should consider our windows in Banbury or windows in Brackley as we have windows available in a multitude of colours and made from the highest quality materials.