The front door is the entrance to your home; it is the key to building a positive first impression to visitors and passersby. The back or patio door, on the other hand, while it may not always be seen, creates the pathway between your home and garden, particularly during the Summer when entertaining guests. With this in mind, although doors are often left unconsidered when planning home renovations, they are a fantastic way to incorporate a subtle hint of character to your property. If you are planning on a door upgrade or simply want to add a new lease of life to your home, then we have put together our favourite modern exterior door ideas for inspiration.
9 Modern Exterior Doors Ideas
Having specialised in the design and installation of doors in Daventry for many years, we have seen the ongoing evolution of style trends. While in the past, due to the lack of materials available, door types were somewhat limited, there is now an abundance of options when upgrading your property. We are constantly on the lookout for trends that catch our eye, and we think the following will also strike your interest:
Exaggerated Glass
Coastal-Style Neutrals
Stainless Steel Finishes
Bright Splash Of Colour
Simple Door With Side Panels
Traditional Hardwood
Contemporary Mixed-Material
Energy-Efficient Designs
Dark Shade Cladding
1. Exaggerated Glass
Nothing quite says modern and contemporary like designs filled with exaggerated glass. Some of the most luxurious properties utilise glass in every component of the architecture to create a spacious, open-plan feel. If you're yet to be introduced to the fantastic houses around the world coated in layers of glass, take a look at Homify's top 11 picks.
When considering a door design filled with glass, we suggest opting for those at the rear of the home. While there is no harm in incorporating glass to the front of your property, particularly if you live on a busy street, this may not always work well in terms of privacy. However, as a conservatory or French door, glass is excellent for enhancing natural light, creating a seamless transition between home and garden. If you are lucky enough to have a large house, then you could even consider transforming an entire wall into a sliding patio door, perfect for the warmer months. Thanks to the array of possibilities now available when designing patio doors, they can now fold away neatly or slide into crevices into the surrounding walls.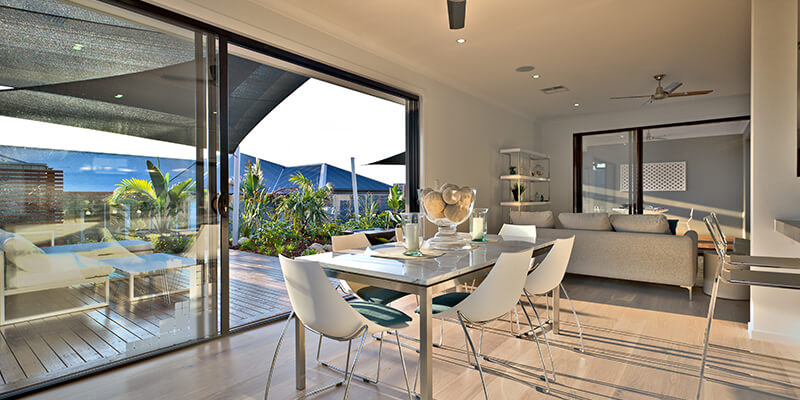 2. Coastal-Style Neutrals
For a subtle yet elegant door design, coastal-style neutral is a fantastic route to consider. If you dream of living in a beach house, sitting at the front on a cosy rocking chair while watching the waves, opting for a pale sand-coloured door would be perfect. If you want something a little more colourful, then a pastel pink, blue or grey would work just as well without looking too OTT. House Beautiful has put together a useful guide to the best neutral paint colours, and while the article is based on inside the home, they are just as effective for the exterior.
Neutral hues are also ideal for standing the test of time as they will never go out of fashion. You can change the colour scheme of flowers, or even the colour of frames and the door will still flow well with the overall appearance of your home. Leafy foliage, in particular, will always complement the serenity of neutral shades and even better, they require a lot less maintenance than flowers. Pair your plants with galvanised pots to maintain the rustic feel.
3. Stainless Steel Finishes
The term 'modern' comes in many different forms. While some associate the style with minimalist, neutral designs, others think futuristic, metallic and industrial. With this in mind, if you are hoping to add a modern edge to your current door, then integrating stainless steel finishes is an excellent idea. Often seen on new-build townhouses, stainless steel is ideal for adding a discrete, yet effective twist to any coloured door. If you are hoping to make an impact, then stainless steel is particularly complemented by deep shades of red. Regardless of the door type in question, whether this may be a front or patio door, you can add stainless steel to handles, panelling or keep it simple with your house number. House Numbers stocks a generous collection of stainless steel house numbers from art deco and Mackintosh-inspired styles to traditional alternatives.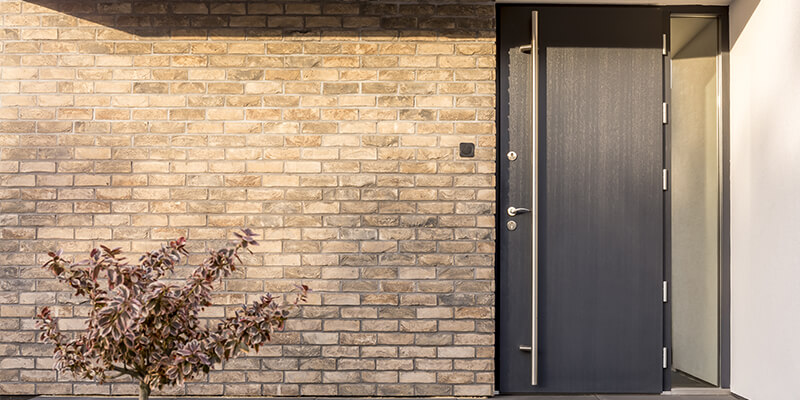 4. Bright Splash Of Colour
While it may not be for everyone, brightly-coloured doors will never go out of fashion and remains a sought-after style year after year. Statement colours are ideal for making even the simplest of door types stand out from the crowd, particularly useful if you plan to put your house on the market. If you are unsure of the best colour to choose, take a look at our previous article on what your door colour says about you for inspiration that complements your personality.
When considering adding a pop of colour, we suggest using the idea for your front door as it allows you to create a quirky entrance to your property. While there are no restrictions on where in the home you incorporate bright exterior doors, the impact is often lost when incorporated into large-scale patio doors. Another factor to consider is the material that you opt for. Painting wooden doors may look attractive for a while, but without regular maintenance will begin to lack aesthetics. UPVC doors, on the other hand, are made using plastic, which means that the colour will not fade with time. The beauty of the material is that it is entirely resistant to all manner of conditions, making it ideal for a front door which is continuously in use.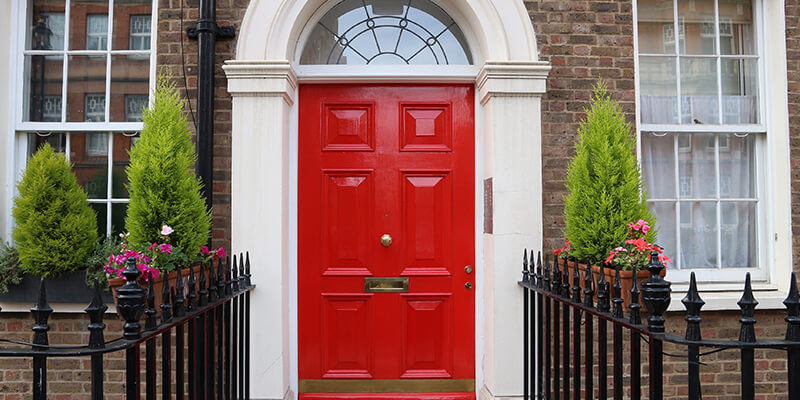 5. Simple Door With Side Panels
If you adore the idea of enhanced glass mentioned previously but are eager to incorporate the feature to the front of your home, we recommend opting for side panels. Your front door can remain the same size, yet is accompanied by glass panels of your choice either side. Again, this is a fantastic way to allow natural light to stream into the front of your property. Natural light in the home comes alongside a wealth of benefits from improving sleep to boosting productivity. If you are worried about passersby peering into your home, then you could choose frosted glass or install narrow blinds. Pinterest features tonnes of ideas on how to add side panels to the front of your property.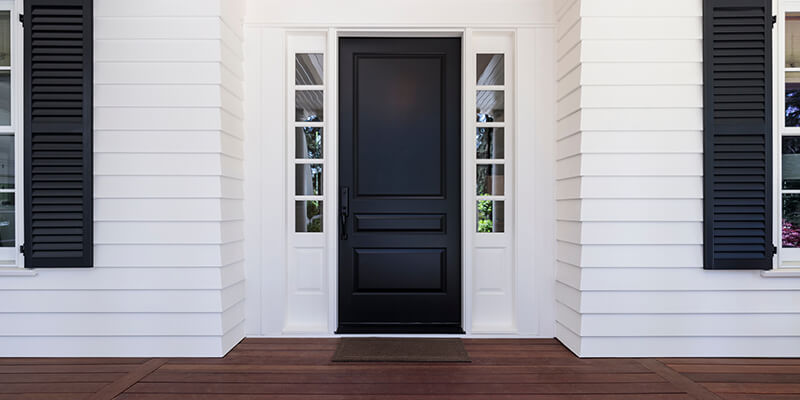 6. Traditional Hardwood
Regardless of your property type, whether it may be a cottage, country home or modern townhouse, hardwood is guaranteed to complement the exterior of your property. Wooden doors have always remained popular, and while in the past timber was the most common choice, hardwood alternatives are far more durable. Hardwood such as Oak or Accoya has been modified to enhance strength and stability, meaning that your home can look stylish without compromising on safety.
The most significant benefit of hardwood styles is that you can guarantee that your door will most definitely be unique. Due to the nature of trees, no two will produce the same wood, meaning that the grains will be formed in a pattern that simply cannot be replicated. While many alternative materials can be designed to look like hardwood, you will never be able to enjoy the beauty of the naturally-formed spirals.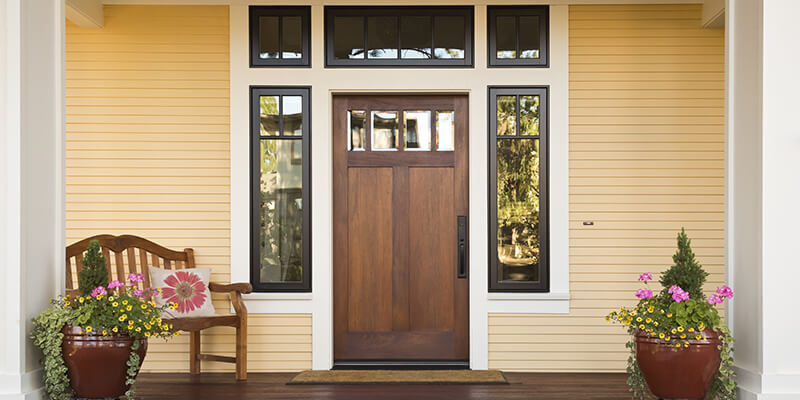 7. Contemporary Mixed-Material
For those who are intrigued by the above idea of a traditional hardwood door, yet also like the concept of stainless steel finishing touches, then why not combine the two for a mixed-material feel? This is a great way to encompass a truly contemporary aesthetic with a neat yet mix-matched style appearance. In fact, you can combine any of the ideas mentioned in our article for a one-of-a-kind appearance.
8. Energy-Efficient Designs
For the past few years and even more so now, homeowners have been on a quest to reduce their carbon footprint and build a more energy-efficient home. While it is often left unconsidered and may not be a style trend, an excellent way to create a more eco-friendly property is to replace your doors. Particularly if your chosen door features glass, we suggest opting for double glazing to improve insulation. Double glazing is designed with two or more panes of glass which feature small, gas-filled space in between which help towards reducing heat transfer. Not only does this reduce your energy bills by limiting lost heat but also boosts security, noise reduction and property value. For a full guide to double glazing, take a look at Which?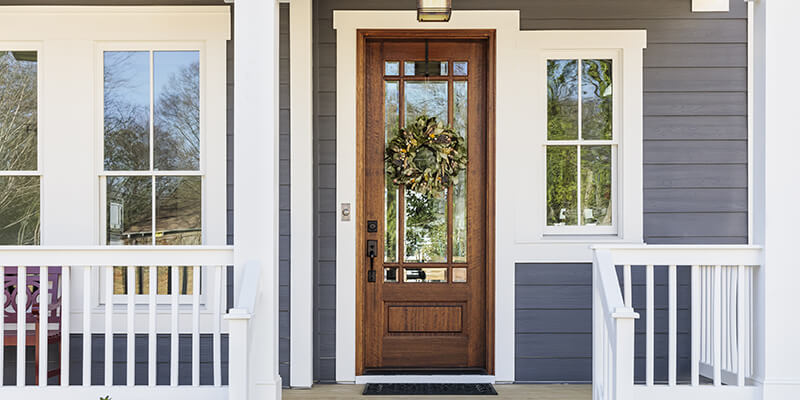 9. Dark Shade Cladding
If you love the aesthetics that come alongside a countryside cabin, then trading your current door for dark coloured cladding would be ideal. It is entirely your choice whether you paint your existing front door or invest in a new installation; either way, there are an array of shades that you can choose from. While, of course, graphite or charcoal remains the most sought-after colours, you could even consider shades of navy such as hale navy or naval. Any dark tones are perfect for achieving a moody yet cosy feel.
To add a little light to the front of your property, we suggest pairing your dark-toned door with symmetrical wall lighting either side. Whether you opt for a lantern-style fixture or a modern, minimalist alternative, you most definitely will not be short for inspiration. If you are interested in accompanying your front door with lighting, then head over to illumination.co.uk.
Adding A Touch Of Personality To Your Home
Replacing your door is one of the most straightforward ways to add a touch of personality to your home, ideal for transforming the overall appearance of your property. Whether you prefer a more minimalist aesthetic or love all things extravagant, we can guarantee that there will be an idea mentioned that will strike your interest. If you are ready to add a new lease of life to your home through either replacing the doors or something a little bigger such as a conservatory, then do not hesitate to contact Danetre Glass. Having provided doors, windows and conservatories in Daventry for many years, our team has a wealth of knowledge on how to bring your vision to life.