When planning to upgrade your property by replacing the doors, the possibilities truly are endless. Not only is there a host of door styles available, but each can be personalised to complement the aesthetics of your property. While there are a number of options available, there are a handful of door types which remain popular amongst homeowners. French patio doors, in particular, are ideal for creating a seamless transition between home and garden, making them a sought-after addition to any property. If you are in the process of planning a door replacement, then we have put together a helpful guide to answer the question 'what is a French patio door?'
What Is A French Patio Door? A Complete Danetre Glass Guide
There are a wealth of benefits towards opting for replacing your patio door, even more so when combined with a French-style design. With this in mind, to ensure that you choose a French patio door that perfectly enhances your home, we suggest reading through the following considerations: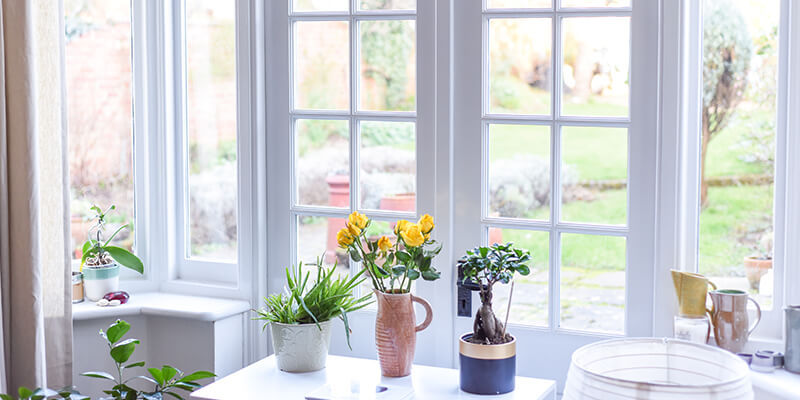 Before delving into the benefits of replacing your doors and the various styles available, it's imperative to cover the difference between a French and patio door, along with how they can be combined to add a sought-after feature to your home.
Conventional patio doors, otherwise known as sliding doors, provide properties with a large-scale opening to their garden. As the name suggests, sliding patio doors are opened and closed with a gliding motion. When open, they can either be hidden inside crevices in the surrounding walls or fold in a concertina-style, the latter being the most popular option. While sliding doors can achieve a seamless appearance, their downside is that only 50% of the doors can be open at once. This means that you will always have at least one panel closed and will never be able to enjoy the full width of the opening.
French patio doors, on the other hand, are fitted with traditionally hinged double doors, which when open, allow you to access the full width of the opening. Most french patio door styles open outwards towards the garden; however, if you are limited in terms of outdoor space, then this can be reversed so that they open into your home. When considering installing french patio doors, it is vital to keep in mind that, regardless of the opening direction that you opt for, you will have to sacrifice some space to accommodate the doors.
Whether you opt for a conventional or French patio door will depend on many factors. Generally, French doors are slightly more expensive than sliding doors; however, you will most definitely get what you pay for should you choose the French-style route. Both options come alongside modern security features such as multi-point locks, toughened glass and lockable anti-snap cylinders. Above all, the most significant contributing factor will be the appearance of the two styles as they are very different. French patio doors come with a more traditional aesthetic, whereas sliding patio doors are better suited to those hoping to modernise their home.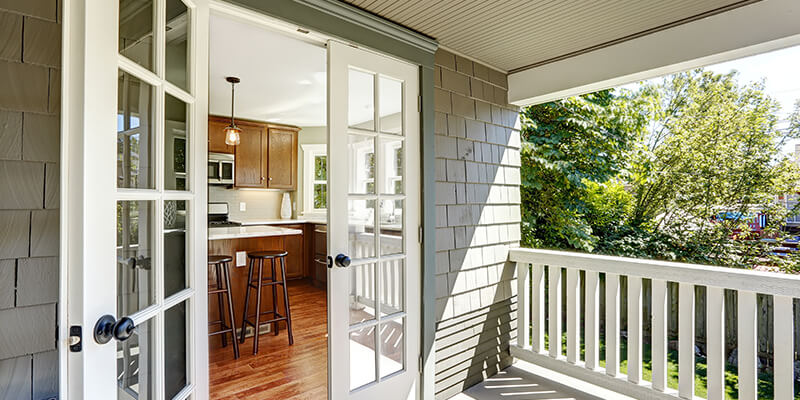 If you have decided that French patio doors are the best route to revamp your home, then it is useful to spend time understanding the wealth of benefits that come alongside the door type. Not only do French doors complement all manner of property styles, but they can also work towards improving the efficiency and security of your home, along with much more. You can find out more about the advantages of French patio doors below:
Enhance Natural Light
Natural light is imperative in every home. Not only does natural lighting create the illusion of an airy, spacious atmosphere, but it can also improve the overall health of those living inside. It is thought that being surrounded by natural light during the daytime can contribute towards a better nights sleep, improved productivity and a boost in your overall mood.
Enhancing natural lighting also means that you will have less reliance on both artificial light and your central heating throughout the day, resulting in a noticeable saving on your bills. When the weather is warm, you will be able to use your French patio doors to filter fresh air into your home, keeping each room at a comfortable temperature.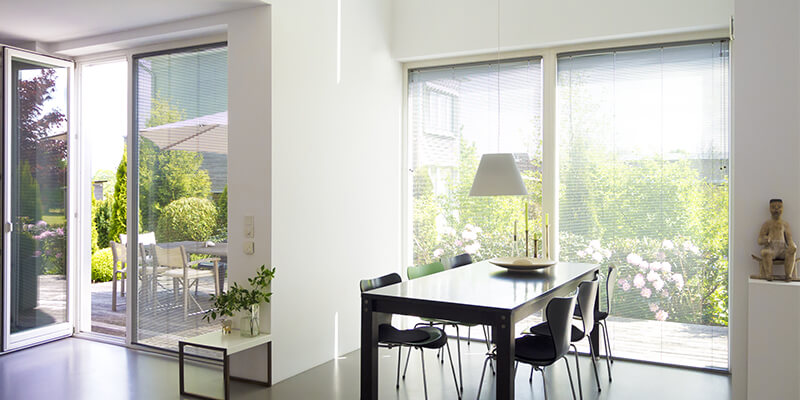 Guaranteed Durability
As French patio doors are designed with large-scale glass panels, many assume that they lack durable properties; however, this most definitely isn't the case. Through enlisting only experienced installers to fit your doors using quality products, along with regular maintenance, your French patio doors can last up to 30 years free from problems.
If you are looking for a reputable company to replace your doors or windows in Rugby, then do not hesitate to contact the team at Danetre Glass. Not only are all installers fully qualified with years of experience, but all products also come with a full 10-year guarantee for your peace of mind.
Additional Security
While, in the past, patio doors did lack security, recent designs now include a three-tier level of protection, which means that your home will remain protected. You will be able to lock your French patio doors just as you would do so your front door, assured that your home is safe.
If you are particularly worried about the security of your property, there are a host of additional features that you can install to enhance your protection further. Take a look at Den Garden for 14 easy ways to improve your overall home security.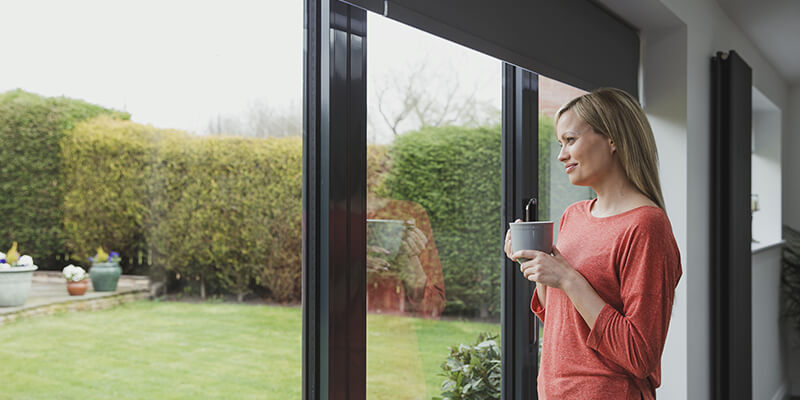 Increased Property Value
Whether you are planning to put your home on the market or simply want to future-proof your property, it is worthwhile to know that installing French patio doors can increase the value of your home. According to a useful article by Settled, creating a flow between the home and garden through new French doors is an ideal value-adding investment for those with a medium budget for renovations.
Much like any other component of your property, French patio doors are available in a host of different materials; each of which come alongside their own strengths and weaknesses. Before going ahead with your installation, it is imperative to research the different materials available to determine which route you would like to choose. The four materials that you should consider are the following: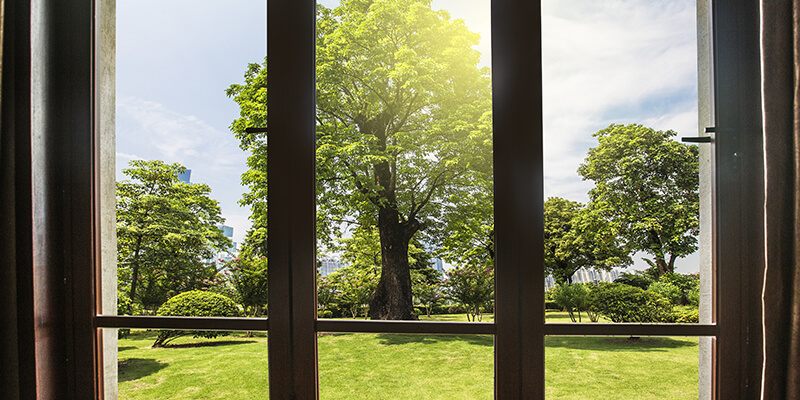 UPVC French Patio Doors
As one of the most cost-effective materials, UPVC is ideal if you want to keep expenses low without compromising on quality. UPVC, otherwise known as polyvinyl chloride, is a form of plastic which means that the material is fully customisable. Not only does this mean you'll have plenty of door colours to choose from, but the material can also be designed to replicate other finishes such as wood grain.
One of the most significant benefits of UPVC is that it has fantastic insulating properties, meaning that it couldn't be easier to keep your home at a comfortable temperature all year round. This will not only help to reduce heat loss, but UPVC will also work as noise insulation, which is particularly beneficial if you live nearby to a busy high street or main road.
In terms of maintenance, it couldn't be more straightforward to keep your UPVC doors in immaculate condition. UPVC will not rot or warp, which means that through merely cleaning the frames frequently, you should never fall into any problems.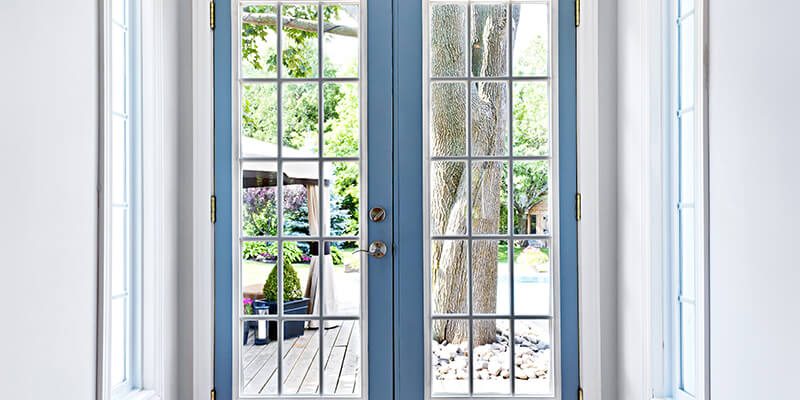 Aluminium French Patio Doors
If you're looking for a material that will provide you with guaranteed reliability and durability, then you will not find a better option than aluminium. Along with excellent insulating benefits, aluminium will never experience corrosion nor warp with wear and tear. However, due to the longevity and strength of aluminium doors, they are likely to be more expensive than other materials, so is seen as a more high-end alternative. Nevertheless, aluminium, similarly to UPVC, will require little maintenance, saving you both time and money in the future. All you will need to do is clean the doors around twice a year using just water and detergent. A full guide on how to do this can be found on Cleanipedia.
Composite French Patio Doors
Composite doors are a little different from any of their alternatives as they are designed using a combination of materials to enhance strength and durability. The core of a composite door will be made from timber, then complete with UPVC edging and glass-reinforced polymers (GRP), which together, achieves a lifespan of over 25 years if well-kept.
Much like UPVC, composite doors can be personalised to blend seamlessly with the aesthetics of your property. While most composite doors have a wood-grain appearance, they can be customised to suit any colour scheme that you wish. Again, maintenance of composite doors is not a time-consuming or costly task, meaning that you can keep the material immaculate by merely wiping it down with a soapy cloth.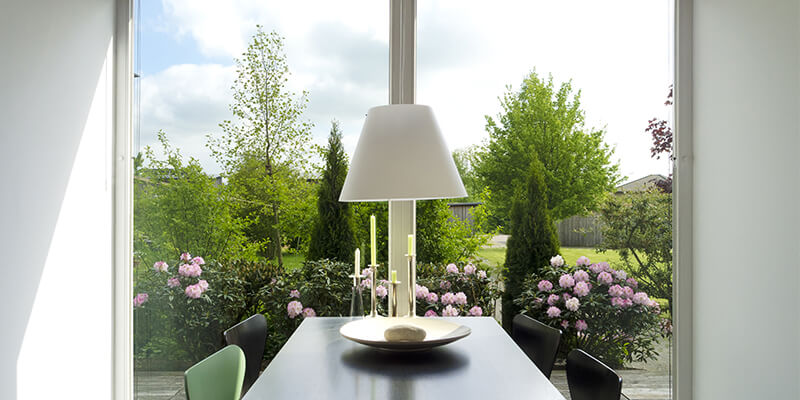 Timber French Patio Doors
Timber remains a sought-after door and window material for those with more traditional-style properties. The unique grains and contours mean that when opting for any wood, you can enjoy a truly unique appearance that could never be artificially replicated. When considering timber as a French patio door material, we would always recommend opting for hardwood as softwood would not be able to withstand constant wear and tear, as well as adverse weather conditions.
While timber patio doors will always look aesthetically-pleasing, they are somewhat demanding in terms of maintenance. Without regular wood treatments, the material will not only start to rot but is also likely to warp, particularly over the colder month when rainfall is increased.
Having specialised in double glazing in Rugby and the surrounding areas for many years, we cannot stress enough the importance of equipping your French patio doors with double glazing. Particularly if you wish to install large-scale doors that take up a considerable percentage of your wall space, double glazing will provide your property with a number of benefits, including the following:
Effective noise reduction, helping to achieve a quiet and peaceful environment for your family
An instant drop in your energy bills due to double glazings ability to prevent heat loss
Double glazing limits UV rays from streaming into your home, meaning that furniture and interior decor are less likely to discolour
It is unlikely that you will experience condensation with double glazing, meaning that there will be no risk of mould and mildew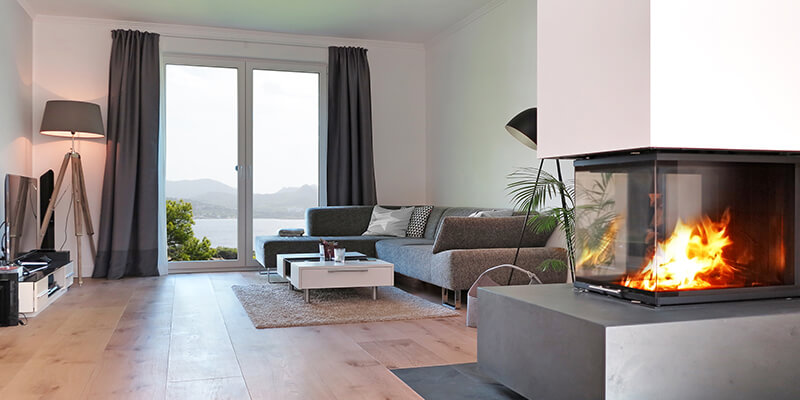 Upgrade Your Property With French Patio Doors
Upgrading your property with French patio doors is most definitely a worthwhile investment and comes alongside a wealth of benefits. The beauty of French patio doors is that they are fully customisable, which means that they can be tailored to suit every property style, both traditional and modern. Not only can you choose between a range of different materials, but many shapes and sizes are available to create a seamless flow between home and garden.