Whether your existing kitchen windows lack efficiency, security or aesthetics, there are many reasons as to why you may begin considering replacement. And, once you start your search, you will find that there are hundreds of design, colour and accessory options to choose from, helping you to tailor your renovation to your home. So, to begin your journey to narrowing down the perfect combination, we've pieced together a guide to our favourite kitchen window ideas!
Kitchen Window Ideas To Inspire Your Next Project
Upgrading any windows across your home comes alongside a wealth of benefits, from reducing your energy bills and improving the overall comfort of your home to boosting property value. However, much like any other renovation, there are many factors to consider to ensure that you choose the correct products, such as the size of the kitchen window, your home styling and budget.
Having specialised in windows in Rugby and the surrounding areas for many years, we work closely with our clients to ensure that they are paired with quality installations that will deliver value for money. We share many ideas and tips throughout the process, with the following being our top recommendations: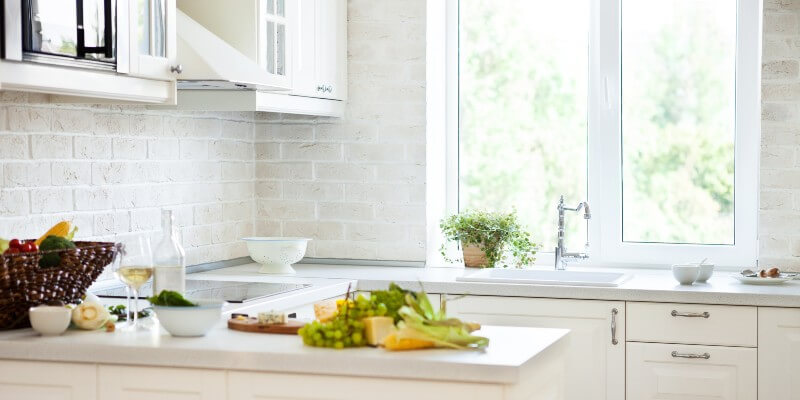 The first step will always be the determine which style of window you would like to invest in. While most homeowners opt for replacing their windows with the same as they currently have, it is always beneficial to look into alternative options. The kitchen window design ideas we typically run through with our clients are:
1. Flush Fit Windows
Flush fit windows, also known as casement windows, remain one of the most popular options amongst our clients due to their sleek, seamless appearance that complements any property style. Their stylish design means that the glazing and frame will sit flush against one another when closed rather than raised. This makes flush fit windows an excellent option for a kitchen as the frame will not protrude on the inside, opening up the space and making it easier to configure furniture.
2. Tilt & Turn Windows
Another popular choice for kitchens, particularly those in older country-style homes, is a tilt and turn window. Tilt and turn windows are designed with a mechanical hinge that will open on two axes using a handle that can be rotated 90° or 180°. There are typically two opening options; open fully like a casement window (at 90°) or tilt the window from the bottom to create a small opening at the top of the frame (at 180°). When choosing this style, keep in mind that the window will open inwards, so you will need to allow plenty of room inside the kitchen.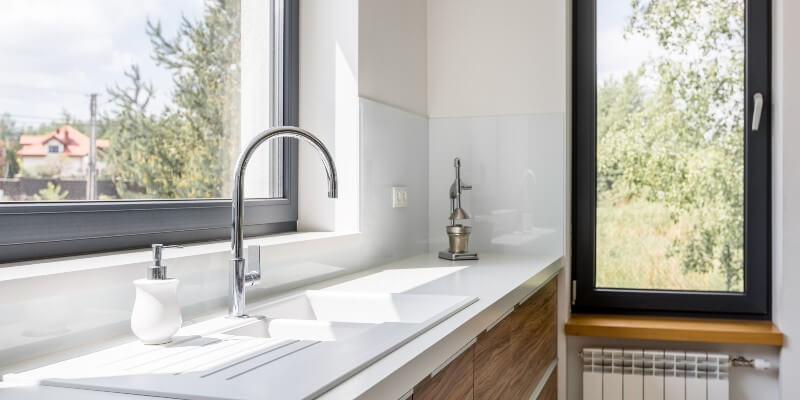 3. Sliding Sash Windows
Most commonly found on Georgian and Victorian homes, sliding sash windows are ideal if you would like a more traditional feel in your kitchen. They are typically composed of two sashes that slide up and down or side to side, with one pane of glass always sliding behind the other. The design of a sliding sash window allows for a broader opening, allowing more air to flow through your home and improving ventilation. This makes this style perfect for filtering warmer air out of your kitchen while allowing cleaner air in.
4. Bay/Bow Windows
While not always associated with the kitchen, if you have a larger space to work with, a bay or bow window would be a fabulous addition, creating a real focal point. Typically, the size of your kitchen will determine which of the two styles you opt for. A bay window is a more conventional design featuring three openings, whereas a bow window will feature four or five. In a kitchen, these window types are generally fitted above the sink area or used as a seating area in a kitchen diner.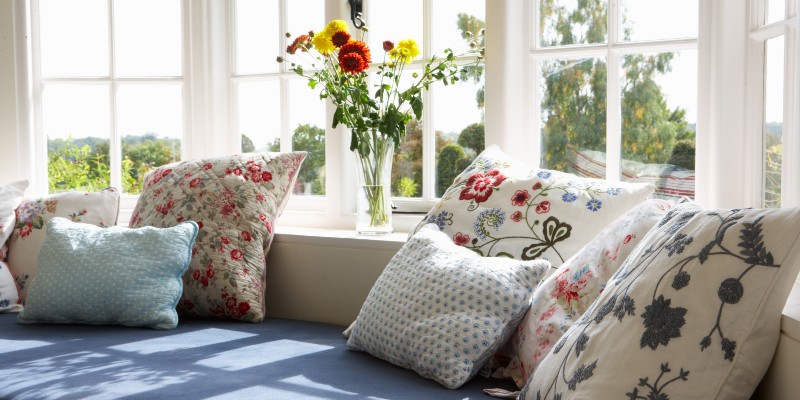 Once you have chosen your new window style, it will be time to consider whether you would like to add blinds. This is entirely your choice as not all homeowners fit blinds, and the choice is typically determined by where your kitchen is located. If your kitchen is at the front of the home, installing blinds will add privacy, but if it is at the back, you may opt for leaving your windows without. However, for those that do choose to go ahead with the idea, here are the most popular kitchen blind ideas:
5. Horizontal/Vertical Blinds
Horizontal blinds, also known as Venetian blinds, and vertical blinds are the most common choice for kitchens as they fit seamlessly into any window size and are super easy to clean. They feature slats in the material and colour you choose, which are controlled via two cords; one to tilt the slats to open and close, and another to move their positioning.
6. Roller Blinds
A great option if you have an open plan kitchen diner is roller blinds, as they are designed with a single panel of fabric which can add a pop of colour or patterning to your interior design. As roller blinds are made from material, they are better suited to windows that are not directly above your food preparation and cooking areas as they can be stained easily.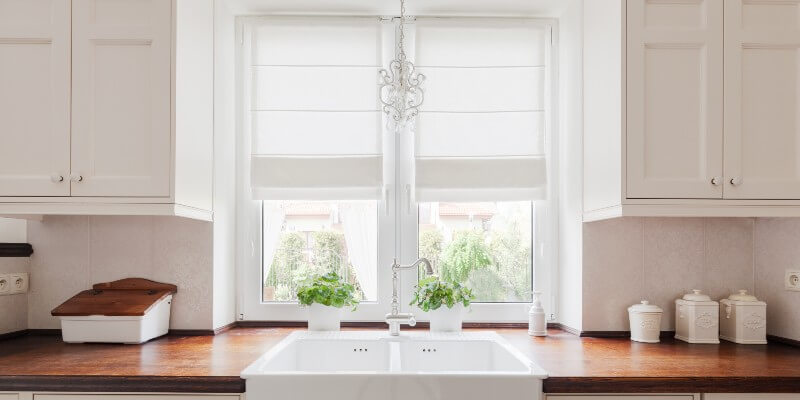 7. Roman Blinds
Much like roller blinds, Roman blinds are made from luxurious fabric, which features horizontal stiffener rods. These rods are used to allow the fabric to neatly fold towards the top of the window when opened and lay flat when closed. Again, they are available in a vast range of colours, along with the option to add a thermal lining for added insulation.
8. Perfect Fit Blinds
If you are looking for blinds that will fit flat against the window when both open and closed, the perfect fit style would be the best-suited route. This option is great for kitchens with a contemporary, simplistic aesthetic as they offer a no-fuss design. They are available in wood, aluminium, plastic and more in slats and pleats, depending on the appearance that best fits your style.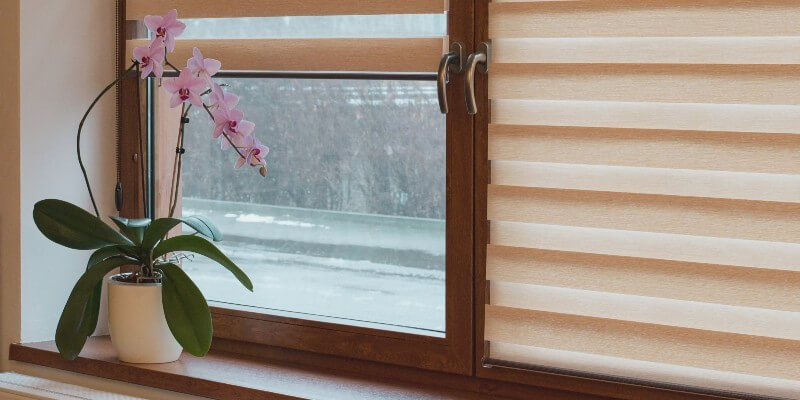 Although most homeowners do opt for blinds, another fantastic way to add privacy and a touch of character to your kitchen is through curtains. Narrowing down your favourite kitchen curtain ideas is likely to be more straightforward as there will be fewer factors to consider. The key points to keep in mind will be the following:
9. Curtain Function
Will your curtains be used to add decoration to your space or for privacy purposes? If it is the latter, then a thicker material will need to be used, whereas sheer or netted curtains would be perfect if you are hoping to complement your interior design.
10. Curtain Shape
Taking into consideration the size and positioning of your window, you will be able to determine whether you need short or long, along with single or double curtains. Swift Direct Blinds stocks an excellent selection of kitchen curtain designs, all of which can be made to measure.
11. Curtain Colour
When it comes to curtain colours, you most definitely won't be short on options. The perk of opting for curtains is that you can perfectly match materials, colours and patterns used in other components of your kitchen. For example, if you have upholstered dining chairs, you can arrange for bespoke curtains to be created in the same fabric, making your interior design these flow effortlessly through your space. If you're stuck for kitchen style themes, why not take a look at Home Stratosphere?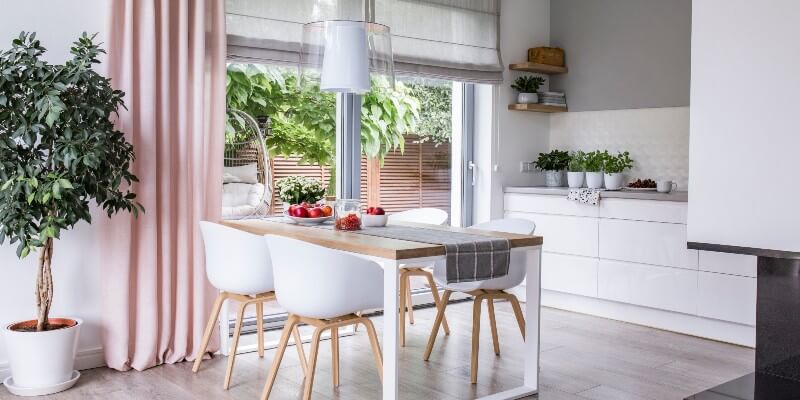 As mentioned above, should you have the space, a bay window is a wonderful addition to your kitchen and will certainly catch the eye of potential buyers should you ever put your home on the market. However, as installing a bay window will mean more glazing in the room, ensuring that you opt for double glazing will be essential. As specialists in double glazing in Daventry and the surrounding areas, our team are always more than happy to answer any questions you have regarding the logistics of fitting a bay window. Not only can they design new bay windows from scratch but also upgrade the glazing in your current installation, so please do not hesitate to contact us for a free quote.
With this in mind, there are many great kitchen bay window ideas that will help you to integrate this timeless feature into your new space, including the following: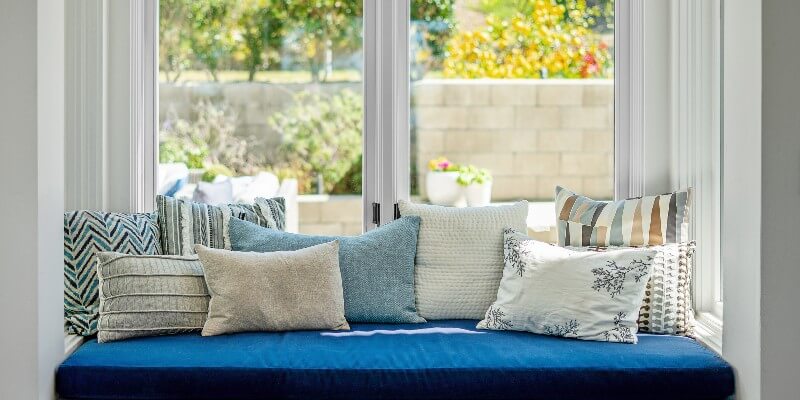 12. Bay Kitchen Window Ideas Over Sink
The most popular way to integrate a bay window into a kitchen is through fitting the glazing over the sink. This can either be a small window that is the same width as the sink or, for those with more space, a large installation that will create a focal point for the kitchen. It is an excellent idea if your kitchen is at the back of the home, as the view from the bay window will be the plush greenery of your garden. Not only this, but it will also mean that there will be no need to install blinds or curtains, allowing natural light to always stream through your kitchen.
13. Seated Bay Kitchen Window Ideas
In any other room of your home, a bay window would be used as a cosy nook to relax and unwind, and you'll be pleased to know that it can also be the case for those tucked away in your kitchen. Providing that you have enough space, simply swap a section of cabinets with a bay window and integrate clever storage underneath the seat to make up for the lost storage. You can then complete your seating area with cushions to create the perfect spot for your little ones, partner or guests to sit and chat with you while you cook!
14. Dining Area Bay Kitchen Window Ideas
Our last kitchen bay window idea is for those looking to add a luxury touch to their kitchen diner. It involves installing a floor to ceiling bay window, which will create a small area of free floor space to place your dining table. This is not only perfect for taking a moment out in the morning for some quiet time while enjoying your breakfast but also for homeowners who adore hosting guests.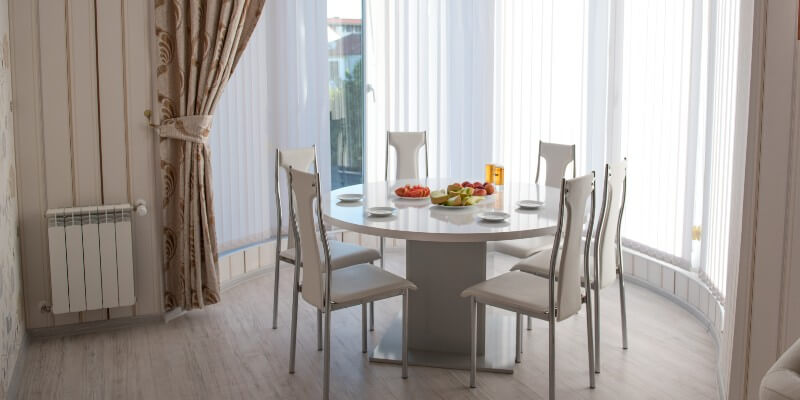 Finding The Perfect Kitchen Windows Made Easy!
With an abundance of wonderful ideas to choose from, you most definitely won't be short for inspiration when searching for the perfect kitchen windows. The design, material, colour and finishing touches will all be based on your home aesthetic and personal preferences. If you're in these early stages of planning and need guidance or have chosen your windows but require installation, our team are always just a phone call away. We've been installing windows and double glazing in Rugby and the surrounding areas for over 15 years and would be more than happy to discuss your ideas before providing a free quote!