At first, the idea of adding a conservatory to your home may be daunting. What style do you choose? How big should the room be? Do you need planning permission? While these are all important questions, there is no need to stress. Our guide to the different types of conservatory, roofing and glass will help you to understand your options and get started on the planning process.
The Different Types Of Conservatory Explained
Our conservatories in Daventry and the surrounding areas are hugely popular amongst our clients, thanks to their durability and the endless room for customisation. As with any project, our team will guide you through the process from start to finish, helping you to bring your vision to life and create a room you will adore for many years to come. To get started, let's take a closer look at the following: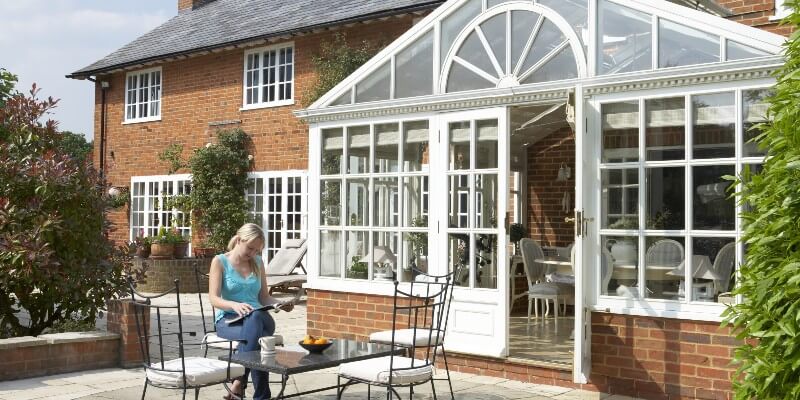 There are many different types of conservatories, making it easier for you to match one specifically to your home and desires. We offer three different types of conservatories in Rugby and the surrounding areas so that you can precisely match your design to your home! These include:
Victorian
The popular Victorian conservatory elegantly combines a peaked roof with a round base and multiple faceted end walls to create a cosy, homely atmosphere. This style is most common in rural homes but can be ideal for adding a touch of personality to a more modern property. The most sought-after feature of a Victorian conservatory is the bay front, offering the perfect spot for sitting back and relaxing while overlooking your garden.
Edwardian
The combination of traditional and modern features creates the foundation of Edwardian conservatories. As a stunning option for all homes, the design consists of a rectangular or square base accompanied by a Victorian-style roof. Our team recommend combining the large floor plan of your Edwardian conservatory with French doors that not only offer endless natural light but also create a seamless transition between home and garden, creating the illusion of an even bigger space.
Lean-To
This modern, simple alternative drives away from tradition and sticks to contemporary designs with its rectangular base, slanted roof and clean lines. The design offers maximum usable space and creates the feeling of extending your home instead of adding to it. We recommend looking at our doors in Rugby and the surrounding areas, then adding sliding patio doors, bi-fold or french doors to enhance your design.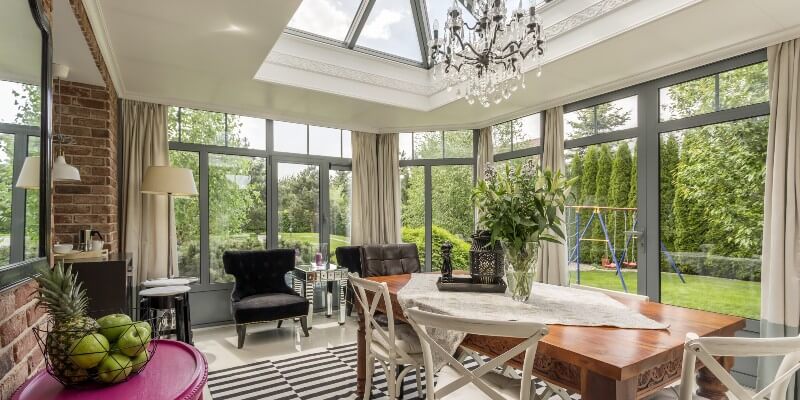 We offer two main types of conservatory roofs, each of which offers a slightly different aesthetic.
Tiled Roofs:
Also known as a guardian tiled roof, this option involves removing your pre-existing glass roof and replacing it with a modern alternative. A tiled roof not only improves insulation, helping to maintain a steady temperature all year round, but also adds a solid ceiling to your conservatory. This is ideal if you want your conservatory to feel more like an extension rather than a glazed room.
As specialists in conservatories in Daventry and the surrounding areas, we work closely with our clients to customise their installations. The tiles can be in many colours; you can choose whether they match your existing roof or opt for creating a contrast. At Danetre Glass, we offer a ten-year manufacturer warranty with our tiled roofs so that you have the comfort that your conservatory installation will last for a while!
Double Glazed Glass Roof:
If you opt for a classic conservatory style, such as a Victorian or Edwardian, a significant percentage of your room will be glass panels – this is where double glazing is essential. A double glazed roof is designed with two glass panes and a layer of gas trapped between them. This prevents the cold air from the outside from seeping in and inside warmth from escaping, and vice versa in the hotter months.
A glazed conservatory roof is ideal if the main driving force behind your conservatory is to maximise natural light. If you love the bright, airy atmosphere of a traditional conservatory, then this option is most definitely the way forward.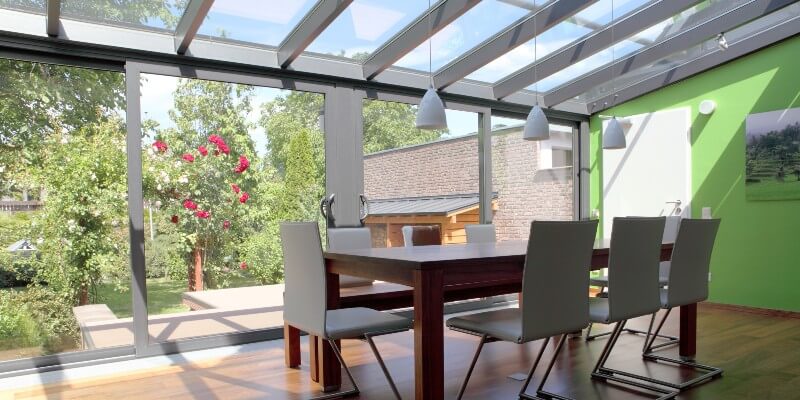 Another great way to customise your conservatory is through your choice of glass. Whether it may be on the roof or around the wall areas, each option comes alongside its own benefits.
Self-Cleaning:
If you want to avoid continuous maintenance, self-cleaning glass is an excellent option. Along with the obvious benefit of cleaning itself, it also has superior heat and noise insulation! While slightly less light will stream into your room compared to conventional glass, it is hardly noticeable. One of the only downsides to self-cleaning glass is that it is often up to 20% more expensive.
Low E Conservatory Glass:
This type of glass is usually specifically for maintaining the same temperature in any weather season. This is by using a transparent coating made of metal which lets heat in but keeps in any heat trying to escape. This glass could be 25% more expensive than standard glass.
Noise Control:
It's all in the name! This glass will reduce the amount of noise and sound allowed in by up to three-quarters, perfect for homeowners who live on a busy road or in a built-up residential area and want to block out constant noise. This glass can be up to 25% more expensive than standard glass.
Decorative Glass:
This type of glass can include stained or etched options and can be combined with double glazing! If you want to add more personality or decor to your conservatory, this is a good route, especially as a broad range of customisation options are available. The complexity level and artistic features you choose will determine how much you will need to pay but expect to spend more than standard glass.
Toughened Conservatory Glass:
Also known as tempered glass, this glazing option is up to 4 times stronger and will endure much more impact than standard glass, ensuring extra protection. However, if anything were to hit it and break it, it would shatter into smaller pieces instead of large ones, which could cause a hazard to small children or pets.
Laminated Glass:
Seen in car windscreens, this glass will shatter into spider-like forms held in place by a plastic interlayer on both sides to prevent the glass from spilling. It is also incredibly strong and extra safe; however, you may be paying up to 40% more than standard glass!
For more information on the different types of glass, visit this article by Conservatory Advice.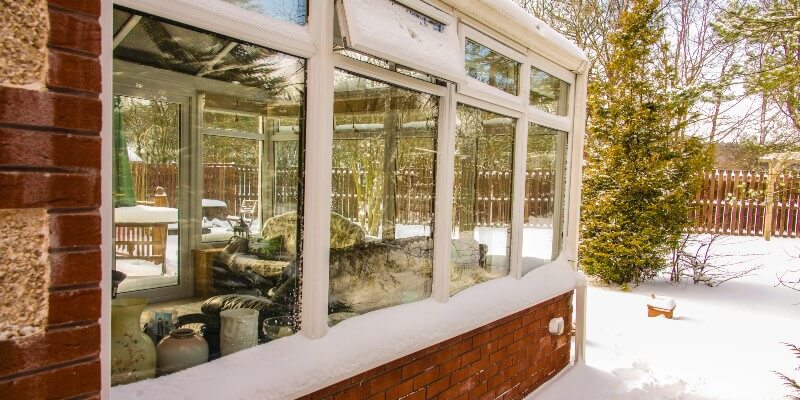 As specialists in conservatories, there are many questions we are regularly asked by clients in the initial planning stages. These include:
Conservatories have the same rules as single-storey extensions, but for building regulations, there are differences. Home building projects are allowed without applying for planning permission providing that they meet the permitted development rights outlined by your local authority.
You DO need planning permissions if:
The conservatory is higher than the highest point of the roof
The eaves and ridge height are higher than the home roof
The extension is forward or to the side, facing the road, of your pre-existing home
50% or more of the land around the pre-existing home will be covered
You MIGHT need permission if:
To find out more about planning permissions in your local area, take a look at this article by PlanningPortal.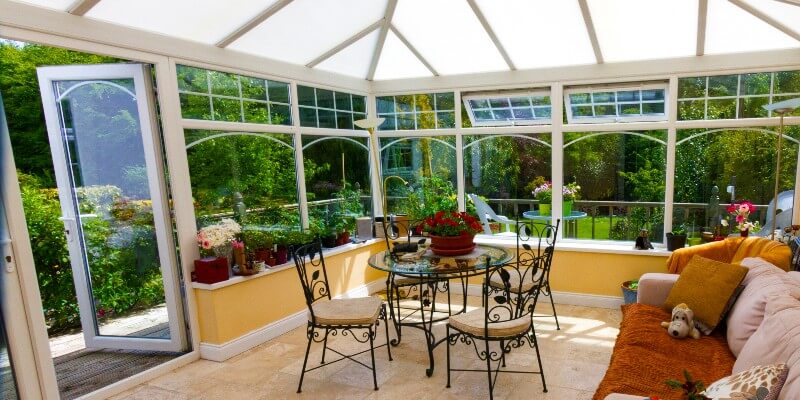 The cost of your conservatory will depend on several factors, making it challenging to give the exact prices. These conditions may include:
The size of your conservatory
The type of glazing if you go for a glazed roof, e.g. solar, noise-reduction
If you go for DIY or professional installation
The material you go for
The location
Extras that you wish for, such as heated flooring
Here are the standard prices you can expect:
Victorian: A base of around 3.5 x 3.5 metres will start from £6,250 to £7,750, but glass options of the same size will start at about £7,250 to £8,750.
Edwardian: An Edwardian-style conservatory of 3.5 x 3.5 metres will cost about £7,500 to £8,500.
Lean To: A lean-to-conservatory is usually the most cost-effective, and for a 3.5 x 3.5 metres, you should expect to pay around £4,500 to £5,500!
Wanting some more information on conservatory costs? Take a look at this article by Conservatory Land.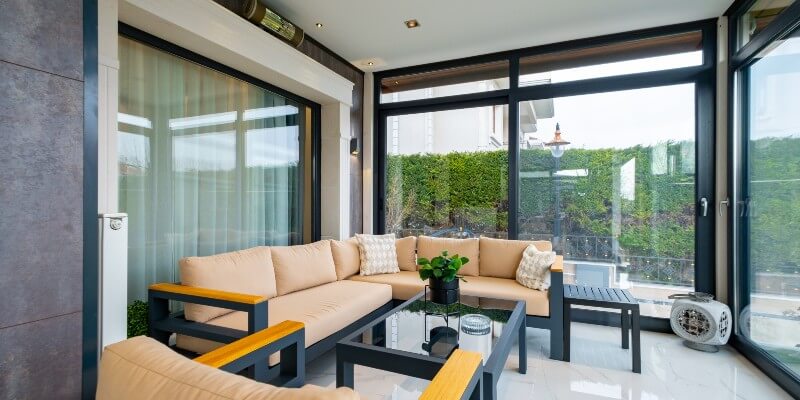 Many get confused between a conservatory and orangery, which is a typical mistake! A conservatory consists of a glass structure with a brick base and pitched roof, whereas an orangery is a brick structure with large windows and a flat roof with a glass lantern. Orangeries usually have a stove as a heating source, including wooden shutters on the windows to retain heat at night. The history of both structures also creates a difference between them. To find out more about the difference between a conservatory and orangery, take a look at this article by AskAnyDifference.
Adding extra space to your home is one of the most popular ways to add value as it increases the desirability of your home to potential buyers. A well-built conservatory will add at least 5% value to your home. However, this is dependent on many factors, such as:
South-Facing Garden: If you have a conservatory built on a south-facing garden, you will receive maximum sunlight, which is always a perk of any home.
Location: Ensuring that the areas surrounding your conservatory are attractive will make sitting in the conservatory far more enjoyable.
Size: Inevitably, a bigger conservatory will add more value. However, if your room is smaller, the goal will be to use clever illusions such as light colour schemes and mirrors to open the space.
Style Of Conservatory: In most cases, a conservatory will add more value if it blends seamlessly with your home and looks as if it's an original feature.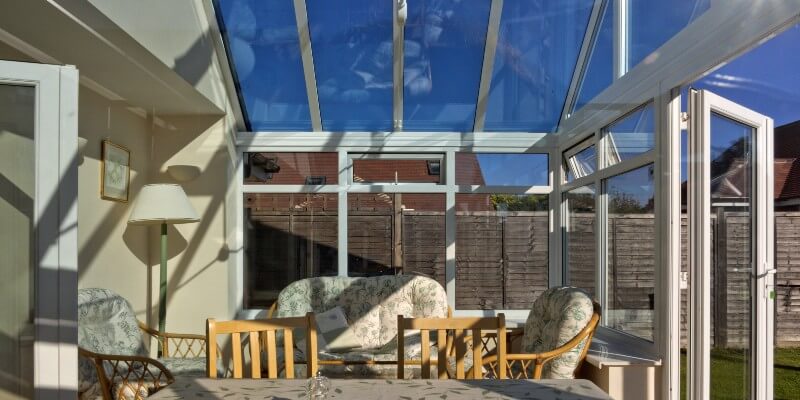 Finding The Best Conservatory For Your Home
Now that we have covered everything you need to know about the types of conservatories, you should be brimming with ideas on how to bring your vision to life. Feel free to get in touch with our team to schedule a home visit and begin piecing together your design. All of our conservatories are bespoke and suited precisely to your preferences, including the windows and doors, helping you to create a space that you will enjoy for many years to come!