Whether you have decided to sell up or are looking for ways to enhance relaxation and functionality with a hint of luxury, then renovating your home can be a fun and creative task. Regardless of whether you have a small or large home, there are multiple ways in which you can renovate the property, whether it be through small touches or making a big investment. For example, if your home looks outdated and you want to modernise your space, then a coat of paint and replacing your windows can do the trick, but for those in need of more space, a conservatory may be the solution. If you have an idea in mind or you would like to know more about your options, then here are our favourite home renovation tips to enhance your property.
Home Renovation Tips That Improve Kerb Appeal
As we have all been locked in our homes for months on end throughout 2020 and the start of 2021, little things around the house have started getting on our nerves. From the crack on the wall that has been annoying you for months, to the cramped living room filled with makeshift home offices, there are plenty of projects that many of us have in mind. While you may have a problem, it can be hard to determine a solution, but there is most definitely one out there for every problem. Having specialised in home renovations for many years, designing and installing windows, doors and conservatories, we have devised a list of our top renovation ideas to take into consideration: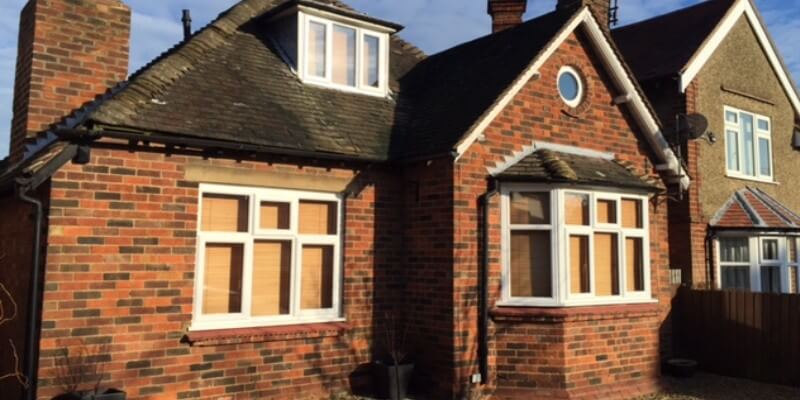 Adding More Space
An issue that has come to light for many of us in the past year, is that the home, while warm and welcoming, can feel cramped and claustrophobic when the whole family huddle together. Whether it is the living room or the fact that you have nowhere to sit together while having dinner, space is certainly something that many of us can take for granted. With this in mind, many homeowners are now looking for clever ways to increase floor space and make their home feel bigger for the family to enjoy. There are many ways in which you are able to achieve this, such as incorporating more light through Velux windows, opening up the home with open plan living or for those with a bigger budget, extending the home.
Home extensions can provide you with exceptional additional space and can be built on the side or back of the property. However, not all homes have the space or even planning permission to be able to take on such a large project, and even if you do, it can be a costly and time-consuming task. A fantastic alternative, and extremely popular solution, is to design and install a stunning conservatory. Conservatories give you the space you require, allowing you to incorporate a sitting room, dining room or even a play area for the children, while also allowing ample light to enter the property through the glass features of the home addition.
Not only does a conservatory provide you with additional space, but they can also enhance the design and aesthetics of your home. There are now multiple styles for you to choose from depending on your preferences and property architecture, including traditional and contemporary styles. If you are not keen on a full glass conservatory, then there are now guardian tiled roof alternatives, ensuring that you can enjoy your new-found space all year round. As experienced specialists in conservatories in Rugby and the surrounding areas, our team are more than happy to help you design a bespoke and durable conservatory based around your requirements, so please feel free to contact the team today to start designing your investment.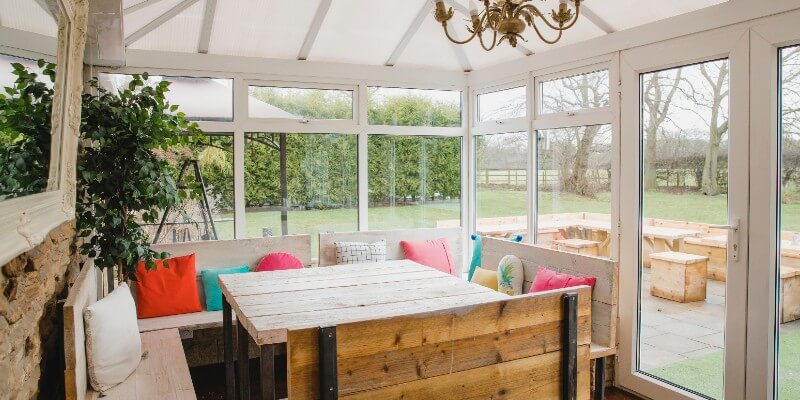 Updating Windows & Doors
You would be surprised at the difference changing your windows and doors can make on your home, both aesthetically and functionally. In fact, there is now more than one aesthetic aspect of a window and door that you can consider when replacing old products, from the material to the design and even to the colour of the frames. For example, you can opt for uPVC windows which come with an abundance of benefits, with the main being that you can choose from almost any colour you have in mind. Whether you wish to transform your home with a vibrant red window or keep a contemporary feel with grey or cream frames, uPVC provides you with an array of options. Not only this, but uPVC is one of the most durable window materials, along with aluminium, ensuring that you are provided with durable and reliable products for many years to come. Additionally, you can choose from multiple designs to match your style and property, such as the following:
Sliding sash
Tilt & turn
Composite
Lead
Georgian
uPVC isn't only a great material for windows but is also great for doors, and when combined with state-of-the-art interlocking systems, they become both durable and safe to help you protect your home and family. Another way to increase security is through double glazing, which comes alongside exceptional benefits such as increasing insulation, helping you to reduce your energy bills. Through replacing your windows and doors, not only do you transform your home with modern alternatives, but it can also increase the value of your property by providing potential buyers with the assurance of reliable and energy-saving windows.
If you are interested in transforming your home with a new set of windows and stunning door to match, then please feel free to ask our team about our range of doors and windows in Daventry and don't forget to ask about our high-quality double glazing in Northampton!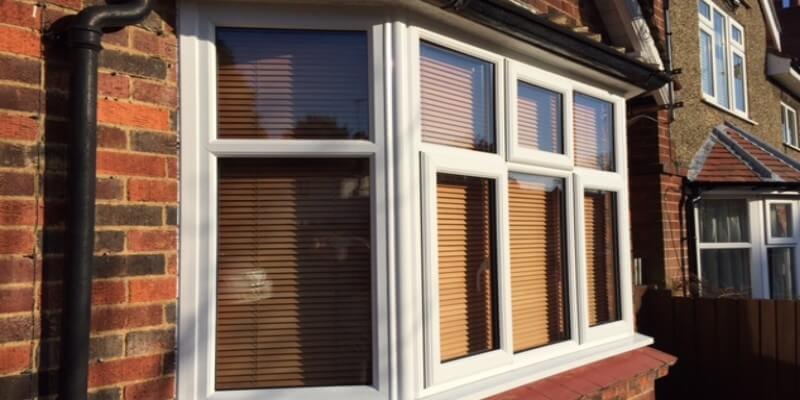 Transforming Your Kitchen
Socialising is something that we have not been able to do much during 2020, but that only means one thing – lots of parties and gatherings when the pandemic is finally over! For some, the idea of having friends and family gathering in their house can be daunting, especially with the outdated and old design of their socialising space. This makes a kitchen renovation the perfect opportunity to add your own stamp onto a property. When designing your new kitchen, you will want to think about two main things, how it looks and how it functions. Although a kitchen may look luxurious and beautiful from the outside, the storage solutions could be letting you down, meaning that tools and cooking appliances end up on the worktop, making it look messy. For this reason, you will need to find a solution that allows you to incorporate smart storage solutions while also adhering to your style.
Lets first focus on the design aspect of the kitchen. You will need to determine what style you prefer by looking at home improvement sites such as House Beautiful and Good Housekeeping. This will help you to understand whether you prefer a subtle traditional kitchen or a contemporary chic kitchen. You are then able to decide whether you would like to purchase a kitchen from places such as IKEA or completely personalise your kitchen with specialist designers. For example, companies such as Build My Kitchen have a range of kitchen collections that you can amend to your liking, while also incorporating leading products and storage solutions.
Now that you have your design, it is time to think about storage. There are now tones of ways you can incorporate clever storage into your kitchen, such as rotating shelves, organisers and much more. you can find a host of other clever storage solutions for your kitchen on The Kitchn.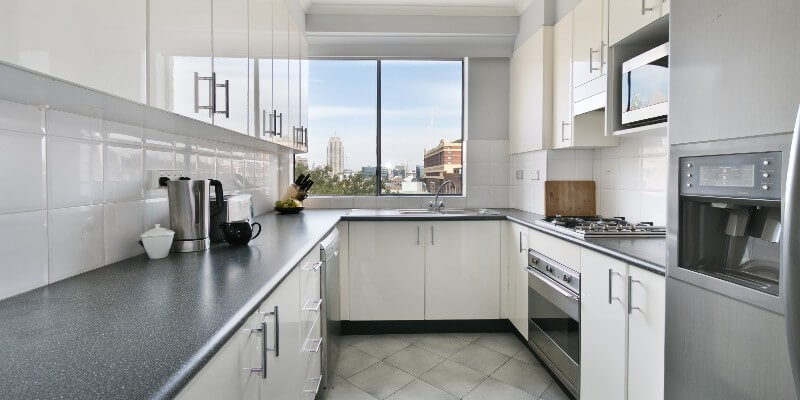 Elevating Your Bathroom Experience
Much like your kitchen, transforming your bathroom can enhance experiences, and increase the value of your home. Through the use of colour and luxury touches such as a freestanding bath, you can easily create a stunning relaxing space for you to unwind after a stressful day. For example, a beige bathroom using stone tiles on the floor and walls, along with a white freestanding bath and gold finishes on the taps, can help to create a spa-like feel, perfect for a relaxing hot bath. When creating your bathroom, you can design every aspect, from the large features such as a bespoke glass shower screen, to even the little details such as the plug hole and toilet roll holder.
Some of our favourite bathroom design ideas that we think you should consider include:
Black Bathroom – you can interpret this in multiple ways, either have a fully black bathroom with rustic touches, or take on the black and white trend that has become increasingly popular in both bathrooms and kitchens.
Marble Bathroom – an elegant and chic touch to your home is to incorporate a marble effect bathroom, either taking it the extra mile with a full marble room, or creating a zone, such as marble in your shower enclosure.
White Bathroom With Gold Finishes – white and gold have become partners in crime these past couple of years, with homeowners going crazy over the sophisticated combination. The white bathroom brings a freshness to the design, while the gold touches elevate the chicness. Use gold for the taps and showerheads, or incorporate a gold bathtub or washbasin for a more dramatic effect.
If you are creating a bespoke design, then we would highly recommend seeking the advice and assistance of a professional bathroom designer. For example, companies such as Ahmco can provide you with luxury bathrooms designed by you, using high-quality materials to create the most luxurious rooms in even the smallest of spaces.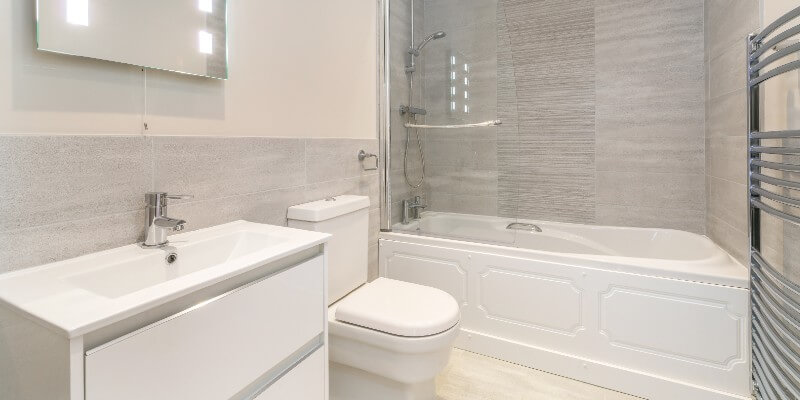 Converting The Loft
While it may be one of the most drastic and costly renovations on our list, a loft conversion can not only enhance your living, but dramatically increase the value of your property. The reason for this is that a loft conversion adds another room onto your home, which is most commonly designed as a double bedroom with an ensuite, meaning that potential buyers can enjoy the addition of another bedroom. Again, this is another renovation project that can be completely designed and customised to you, making it perfect for families in need of additional space, but do not have the ability to add an extension onto the back or sides of the home.
When designing your loft conversion, there are many routes you can go down, either increasing the height of your roof or lowering the floor if there is enough height in the room below. As well as this, you can also choose from a range of loft conversion styles, including hip-to-gable, dormer conversion or Velux conversion. The type of loft that you have and the space that it provides can also determine the style that your incorporate, all of which will be discussed with you when planning and designing your conversion with a reputable team, such as DJ Moore Lofts. When it comes to your loft conversion, you can take full advantage of an abundance of benefits, including room choices. There are multiple rooms you can incorporate into your conversion, and it's really down to you as to how you use it. Some ideas include:
Large bedroom and ensuite
Games room
Study
Sitting room
Playroom
Cinema
Walk-in wardrobe
Beauty room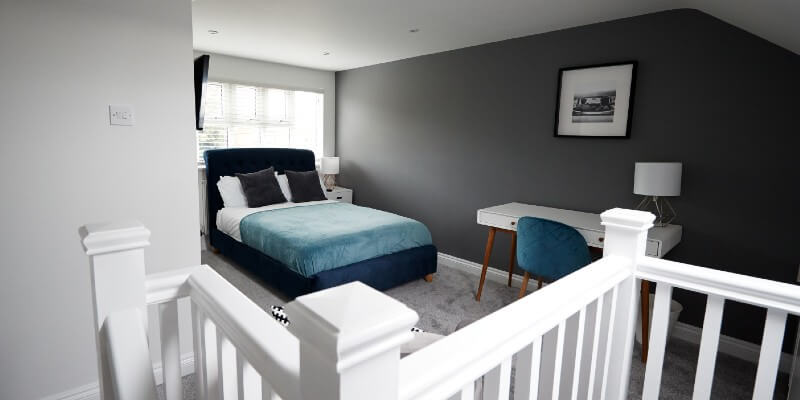 Enhance Your Living Space & Modernise Your Home
Whether you feel that the home does not represent your style, or you think that certain aspects, such as the kitchen, have become outdated, there are many ways you can renovate your property to change small or large aspects of the home. Through the use of exceptional quality products and a specialist team of designers and installers, you are able to bring your vision to life, no matter how big or small it may be. If you require leading products such as conservatories or windows and doors, then please feel free to contact the team. Our experienced team of specialists are more than happy to provide you with a selection of stunning products and ensure that the installation runs smoothly.