Working out in a public gym can be not only daunting for many but also inconvenient for those with a busy schedule. Moreover, having spent many months enjoying home workouts during the pandemic, a significant number of gym goers have found that they much prefer this route of keeping fit. With this in mind, if you are one of the many considering building a home gym but unsure where to start, our guide is guaranteed to point you in the right direction!
Your Guide To Building A Home Gym
Creating a gym space from the comfort of your home is far more straightforward than many assume, and it gives you the freedom only to include equipment that you know you will use. Every aspect can be tailored to your goals and preferences, ensuring that you can make the most out of every session. And even better, no more waiting around for others to finish their set before you can use a piece of equipment. You can take your time and work out at your own pace with nothing holding you back!
Before beginning to build your home gym, it is important to do plenty of research and plan ahead of time, ensuring that you have a structure in place to begin your conversion. Take a look at the following to get started: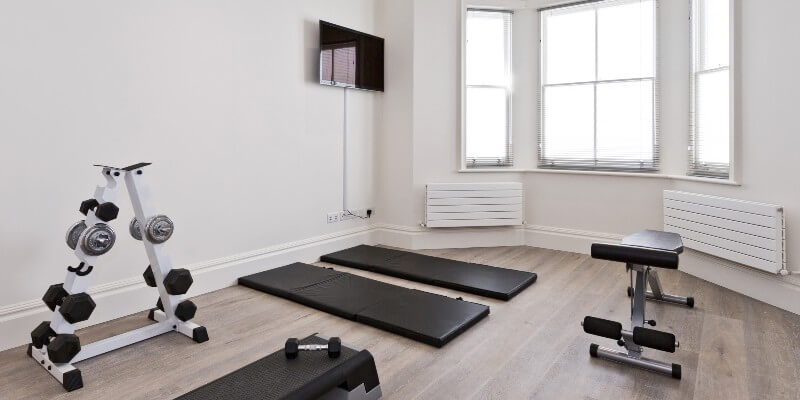 Is Building A Home Gym Worth It?
If you have a passion for fitness, then the question "is building a home gym worth it?" is likely to pop into your mind regularly. The answer to this question depends on how often you plan to use your gym. In terms of money, initially, your home gym will be an investment. However, when adding up years worth of membership fees and class costs, building your own gym will allow you to enjoy a return while also saving a considerable amount of time. More benefits of a home gym include:
Save Time: As mentioned above, a home gym saves a significant amount of time, from the commute to signing in and putting your belongings in a locker. You will be able to work out and then jump straight into the shower without having to travel home.
Tailored To You: Your gym will be designed based on what you like to use and how you prefer to use it. You will not need to readjust equipment as each piece will already be set to your preferences.
No Waiting Around: There is nothing more frustrating than walking into your local gym to find that it is busy, and you will spend most of your session waiting around for others to finish on equipment. With a home gym, there will never be any limitations.
Feel More Comfortable: Many people love fitness but find working out in a busy gym a little intimidating, so switch to home workouts at their own gym to feel more comfortable and exercise without others overlooking.
No Time Limits: Your home gym will be open 24 hours a day, 7 days a week, allowing you to work out whenever is convenient for you, even if you are a super early bird or a night owl.
How To Build A Home Gym
For those who have decided that a home gym is the best route for them, it's now time for the exciting part, starting the prep for the build. Here are our tips on how to build a home gym:
Determine Your Budget
Much like any other home renovation, building your home gym should always begin with determining your budget; this will create a structure for your project. This budget will depend on many factors such as your training style, the equipment you need and where you plan to locate your gym – the price can range from as little as a few hundred pounds to thousands.
If you plan to simply clear out an existing room and place your equipment inside, then there will be far fewer factors to keep in mind. However, if you are a personal trainer or athlete, for example, you are likely to need a fully kitted out, top-of-the-range home gym, which will inevitably require more time and money.
For those hoping to stick to a lower budget, you may want to consider buying used equipment as this will be far more cost-effective. You can find high quality, good condition equipment second hand for a fraction of the cost, which can then be added to or replaced in the future. This allows you to slowly build up your home gym as you progress on your fitness journey. Gymkit UK and Pinnacle Fitness, both stock a vast range of new, used and refurbished equipment, so are worth browsing through!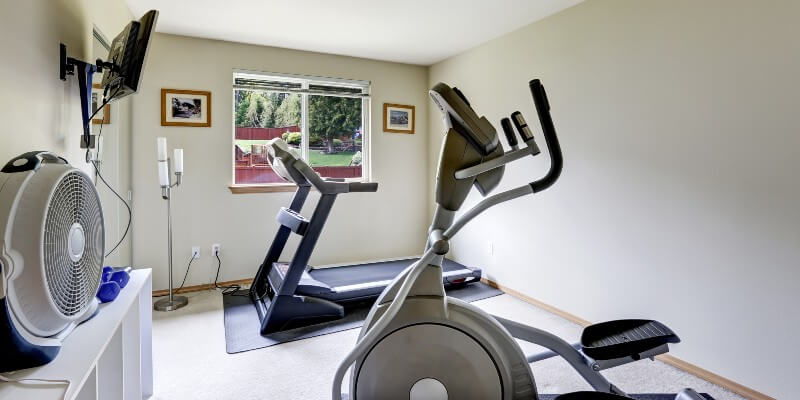 Decide On The Location
As mentioned above, you will need to decide where in your home the gym will be. The three most common places are in the garage, a spare room or outdoors in a purpose-built outbuilding. Of course, an outbuilding will be the most costly option, but it will allow you to exclusively tailor the space to your vision. However, in terms of convenience and sticking to a budget, converting a garage remains the most popular route.
Choosing where you will house your gym is typically a straightforward choice as the available space in and around your property is likely to make the decision for you. However, from here, you will need to determine what work needs to be done in your chosen area. For example, will your home gym be secure and cannot be accessed without a key? Does the space need to be replastered or floor laid? Do you need to install plumbing and electricity? Together, this will help you to begin creating a plan of action.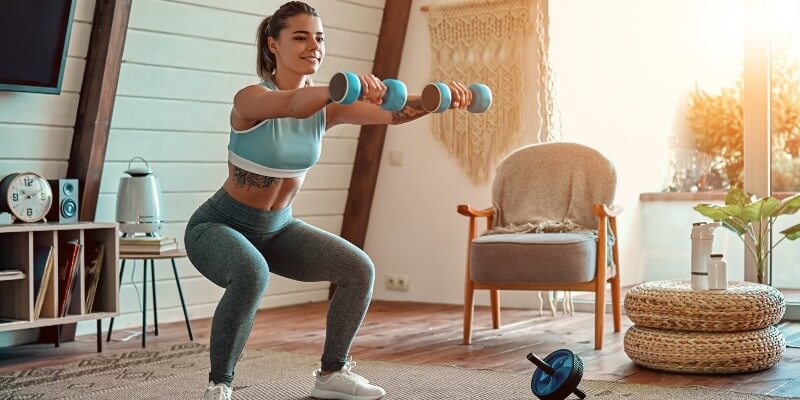 Consider Noise Levels
Particularly if you regularly do high impact workouts or like to play music while you exercise, noise levels will have to be considered. In outbuildings, it is more than likely that your new space will be fitted with insulation, but when converting existing rooms, we highly recommend keeping this in mind.
For windows and doors, if they do not yet have double glazing, then this will also be a must-have. Due to the two-pane nature of double glazing, the noise vibration that travels through the glass is reduced, which means that noise is significantly reduced from both the inside and outside. This will allow you to continue enjoying your workout without worrying about disturbing other members of the family.
At Danetre Glass, we are specialists in double glazing in Northampton and the surrounding areas, able to replace old panes with high-quality, insulating glazing. We would be more than happy to provide a free quote based on your requirements and can schedule your installation around your other home gym renovation work.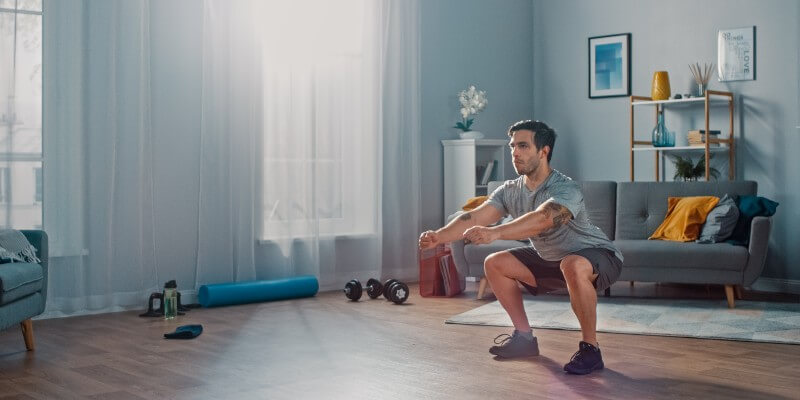 Incorporate Ventilation
One aspect that is often overlooked when designing a home gym is ventilation. Not only is ventilation essential for ensuring plenty of fresh air while you exercise, but it will also prevent equipment damage. In a damp environment with little fresh air, your equipment can quickly begin to rust, leading to expensive replacement costs.
With this in mind, if you plan to convert an existing room into a home gym, investing in extra windows or where this is not possible, air conditioning, will most definitely work towards your advantage. For those building a home gym, be sure to incorporate large windows and doors. Many of our clients opt for sliding patio doors that run across an entire wall, which is also a handy way to make the space appear bigger. In the summer, the doors can be opened to allow you to exercise outside while enjoying the sunshine. For more information on our doors in Daventry and the surrounding areas, please get in touch with our team.
Checklist For Your Gym Set Up At Home
Furnishing and decorating your gym will be, by far, one of the most exciting aspects of your project, allowing you to put a personal twist on the space. To get started, take a look at our checklist for your gym set up at home:
Home Gym Flooring
It will be entirely your choice what type of flooring you install in your gym, but we would always recommend including a section with a softer, spongy material. This will not only make floor workouts far more comfortable but also help when lifting weights. For a smaller section, an exercise mat would do the job, but for a larger area, foam or rubber flooring is the best bet, none of which will be an expensive investment.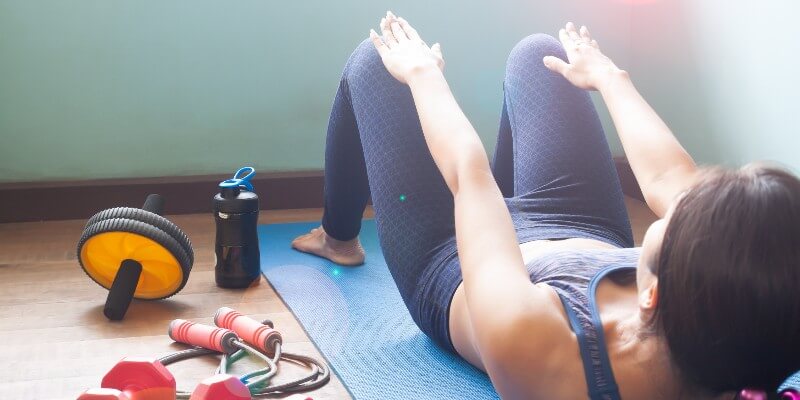 Home Gym Equipment
The equipment is, of course, the most important part of your home gym, so it will always be beneficial to put together a list of those that you want to invest in first. Your home gym is a long-term investment, so there is no reason why you cannot start with the essentials and then slowly work up your collection. As a foundation, most opt for investing in the following:
Kettlebells
Dumbbells
Weight Bench
Barbell
Plates
Skipping Rope
Treadmill
If you're unsure how to choose the right gym equipment, take a look at T3 for a guide to the top-rated picks for this year, along with the video linked below by Garage Gym Reviews for home gym essentials.
Home Gym Mirrors
For the full experience, home gym mirrors are essential, helping you to check and improve your technique. Our team at Danetre Glass have years of experience working closely with clients to design bespoke mirrors, many of which are custom made for home gyms. These can be bevelled, complete with polished edges, custom engraved and much more, helping you to design a mirror that fits with your requirements and slots seamlessly into your gym. Feel free to contact us for a free quote!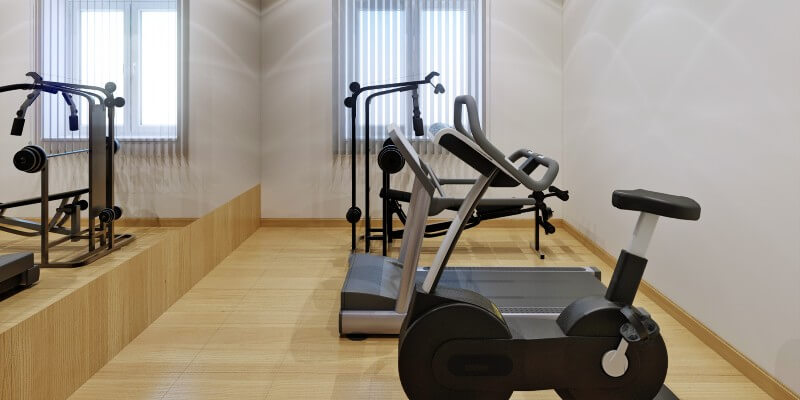 Home Gym Lighting
While fluorescent lighting will be required for early morning or late-at-night workouts, it is always recommended to take advantage of natural lighting as much as you can. Fluorescent lighting can be harsh on the eyes, causing headaches and fatigue – the last thing you want when getting stuck into a workout! Not only this, but natural lighting can help you to feel more alert, which will always work towards your advantage. Find out more about the health benefits on SelectHealth.
If you are lacking natural light and looking to incorporate more into your home gym, why not enquire about our windows in Rugby and the surrounding areas? We install both uPVC and aluminium windows in many styles, from sliding sash and flush fit to tilt and turn, ensuring that you can pair your home gym with the best suitable option.
Enjoy Working Out From The Comfort Of Your Home!
A home gym continues to be a popular choice amongst fitness lovers, and we can most definitely see why! With the flexibility to work out independently and at your own pace, a home gym is the most convenient way to integrate exercise into your routine. And even better, there is no need to rush into building a state-of-the-art gym filled with expensive equipment; you are still able to create a functional, motivating space while sticking to a budget- it just takes a little extra planning!